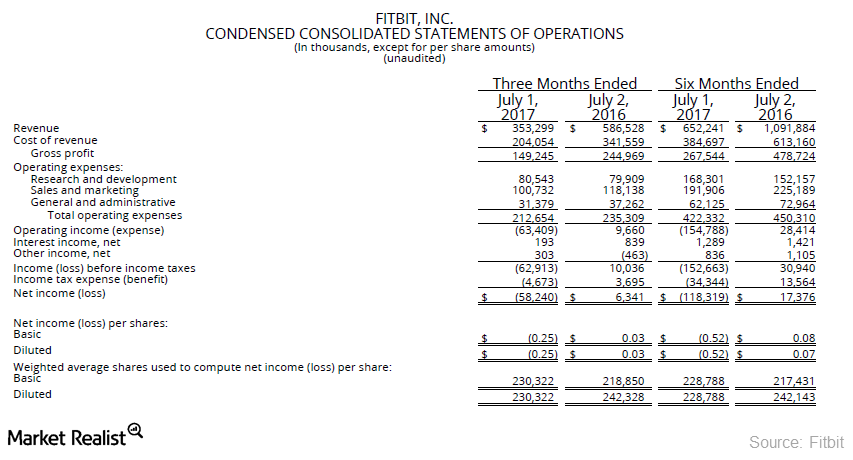 A Look at Fitbit's Research and Development Spending
By Adam Rogers

Aug. 8 2017, Updated 10:36 a.m. ET
R&D accounted for 23% of revenue in 2Q17
We've seen that Fitbit's (FIT) revenue fell significantly by 40% YoY (year-over-year) in 2Q17. Fitbit's research and development (R&D) spending, however, rose 1% YoY in 2Q17 to $80.54 million, compared to $79.9 million in 2Q16. R&D expenses in 2Q17 accounted for 23% of revenue, up from 13.6% in 2Q16 and 14.2% in 1Q17. In the first six months of 2017, Fitbit's R&D expenses rose 10.6% YoY to $168.3 million—despite a 40% fall in revenue.
Why is R&D important for Fitbit?
Article continues below advertisement
Consumer technology (QQQ) companies such as Fitbit, Apple (AAPL), Samsung (SSNLF), Garmin (GRMN,) and GoPro (GPRO) need to continuously invest in research and development for product innovation and product development. These firms need to introduce new products that will help maintain and generate consumer interest. Apple's R&D expenses rose 15% YoY in the quarter ended June 30, 2017.
Fitbit has launched several products over the last 12 months and plans to launch its smartwatch by the end of this year. Fitbit is confident that the new smartwatch will be a hit with consumers. James Park, the CEO of Fitbit stated, "Our smartwatch, which we believe will deliver the best health and fitness experience in the category, is on track for delivery ahead of the holiday season and will drive a strong second half of the year."
To ensure customer satisfaction and market penetration, a long-term focus on R&D remains a top priority for most companies, including Fitbit. Fitbit plans to allocate ~10.0% of its revenue to R&D in the long term.