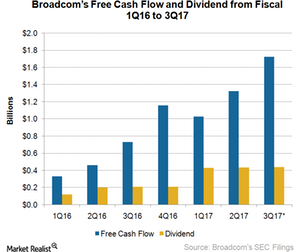 A Look at Broadcom's Cash Inflows and Outflows
By Puja Tayal

Updated
Cash flows
Broadcom (AVGO) is improving its profit margins in all four of its business segments. The higher margins and revenues are driving the company's cash flows.
The company's restructuring expenses related to classic Broadcom integration is reducing gradually, driving its operating cash flow. In fiscal 2Q17, Broadcom's operating cash flow increased 17% sequentially to ~$1.6 billion.
Article continues below advertisement
Capital expenditure
Broadcom reduced its capital expenditure (or capex) from $325 million in fiscal 1Q17 to $256 million, or 6% of its revenues, in fiscal 2Q17. The company's capex was lower than its guided spending of $290 million. So far, it has spent $581 million in capex and expects to spend $240 million in fiscal 3Q17.
The company has allotted $1.2 billion in capex for fiscal 2017, of which it intends to spend ~$500 million on the construction of its Irvine and San Jose campuses and ~$200 million on the purchase of test equipment on consignment.
On August 10, 2017, the company sold its Irvine site to Great Park developer FivePoint Communities for $443 million and leased 64% of the space for 20 years. As the company sold one of the sites, its capex would fall significantly in fiscal 4Q17, helping it achieve its long-term capital expenditure target of 3% of its revenues.
With profit margins improving and capex falling, Broadcom's FCF (free cash flow) is likely to increase significantly in fiscal 2017. Its FCF increased 30% sequentially to ~$1.3 billion, or 31.6% of its revenue, in fiscal 2Q17.
If the company maintains this growth rate, it would report FCF of $1.7 billion, or 38% of its revenues, in fiscal 3Q17. This trend would exceed its long-term target of an FCF margin of 35%.
Article continues below advertisement
Cash and debt
Broadcom spends ~$430 million of its free cash flow on dividend payments, putting the remaining FCF in cash reserve. This action increased its cash reserve from $3.5 billion in fiscal 1Q17 to ~$4.5 billion in fiscal 2Q17.
The company is increasing its cash reserves to fund the $5.9 billion acquisition of Brocade Communications Systems (BRCD). Broadcom would maintain high cash reserves until the final approval on the Brocade acquisition is received.
Inventory
Broadcom (AVGO) reduced its inventory from $1.34 billion in fiscal 1Q17 to $1.31 billion in fiscal 2Q17. The company is likely to increase its inventory in fiscal 3Q17 and fiscal 4Q17 as it starts ramping up its production to meet the demand from Apple's (AAPL) assembly partner Foxconn, which accounts for more than 10% of the chip supplier's revenues.
Another Apple supplier, Qorvo (QRVO), increased its inventory from $430 million in 1Q17 to $471 million in 2Q17.
Next, we'll see what analysts think about Broadcom.