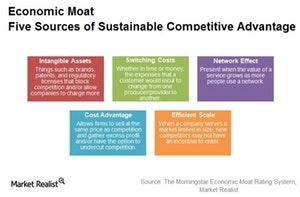 Let's Explore How Cost Leadership Provides Market Control
By VanEck

Oct. 29 2019, Updated 11:37 p.m. ET
The attribute of "cost advantage" is the second most frequent source of economic moat ratings according to Morningstar. Companies that are able to produce and offer products or services at lower costs than competitors are often able to achieve much higher profit margins. Within many industries, cost leaders have a distinct competitive advantage and often exert significant control over market prices. Morningstar Research explains cost advantage as:
Article continues below advertisement
Cost Advantage: Firms with a structural cost advantage can either undercut competitors on price while earning similar margins, or they can charge market-level prices while earning relatively high margins. For example, Express Scripts ESRX controls such a large percentage of U.S. pharmaceutical spending that it can negotiate favorable terms with suppliers like drug manufacturers and retail pharmacies.
Cost advantages are often gained through economies of scale, lower distribution and manufacturing costs, and/or access to a less expensive resource base. For moat-rated companies, cost advantage is one of the most difficult "moaty" attributes to maintain given the increasing competition in our modern global economy. For example, over the past 30 years, the U.S. manufacturing and consumer goods industries have been flattened by punishing price competition from overseas.
Market Realist
Ways of achieving cost advantage
Cost advantage (WMT), or cost leadership, is a business strategy that companies utilize to gain a competitive edge over their competitors and obtain an economic moat. Moat companies (GILD) (V) (CVS) create long-term value for shareholders and above-average returns for investors.
This strategy mainly focuses on reducing economic costs of producing goods and services. These companies offer customers products of similar quality but at a lower price. Many companies opt for outsourcing to cut costs. By either outsourcing to reduce production costs or opting for cheaper domestic suppliers, companies are able to sell their products and services at lower prices and benefit from thin margins at high volumes.
However, competitors can find a way to produce the same product with higher quality at a much cheaper cost, forcing the company to lose its competitive advantage. Thus, caution must be exercised with respect to which costs should be outsourced.
Other ways of achieving cost leadership include perfecting production methods, discontinuing activities that don't provide a cost advantage, having access to raw materials and superior technology at lower costs, and efficiently utilizing resources.
Later in this series, we'll discuss how US-based Starbucks (SBUX) and Compass Minerals (CMP), as well as international moat companies Kao Corporation and Ramsay Health Care, obtained economic moats through cost leadership.
Let's start by discussing how Starbucks benefited from cost leadership and obtained a wide economic moat rating.