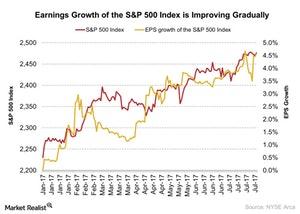 Why Cooperman Thinks the Market Is Fully Valued
By Sarah Sands

Updated
Leon Cooperman's interview with CNBC
In an interview with CNBC on Monday, August 7, 2017, billionaire hedge fund manager and CEO (chief executive officer) of Omega Advisors, Leon Cooperman, shared his views on the following:
market valuation
global economy
favorite stock picks and largest holdings
Article continues below advertisement
Cooperman on the market valuation
When asked about the valuation of the market, Cooperman said that he thinks "the market is fully valued." The market has shown strong performance since the US election in November 2016. The S&P 500 Index (SPY), the Dow Jones Industrial Average (DIA), and the Nasdaq Composite Index have returned nearly 14%, 19.5%, and 19.7%, respectively, between November 8, 2016, and August 10, 2017.
These indexes are trading at trailing PE (price-to-earnings) multiples of 21.6x, 19.98x, and 23.03x, respectively. The forward PE multiples of these indexes are 18x, 17.2x, and 20.4x. If we analyze the performance of the S&P 500 index, it's clear that the forward PE multiple of the S&P 500 index (IVV) is much higher than its historical average of 15x. Stronger earnings growth is supporting the market movement and higher valuation.
These new highs among major US indexes are improving investors' confidence in the market. According to Cooperman, every year the market rises nearly 6%–8%, if not more, and over the long-term, investors generally receive good returns. This strong earnings growth is justifying the new highs of these indexes, which shows that the market is fully valued.
In the next part of this series, we'll discuss Cooperman's view of the economy in greater detail.