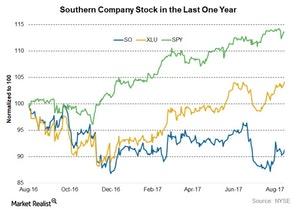 Latest Developments for Southern Company's Plant Vogtle
Plant Vogtle's new cost estimate
Uncertainty at Southern Company's (SO) Plant Vogtle escalated after the company increased its cost estimate for the project in its 2Q17 earnings. The completion of two reactors at the plant, which is still under construction, is now expected to cost more than $25.0 billion, and the deadline has been pushed back two more years to 2023. Southern Company is expected to convey its decision to regulators by the end of this month whether it plans to complete the construction of the Vogtle reactors.
Plant Vogtle has been delayed multiple times and has witnessed significant cost overruns. It had an initial cost estimate of $14.0 billion in 2008.
Article continues below advertisement
Swelling costs for a risky bet
It's interesting that Southern Company sees Plant Vogtle as a worthy endeavor when US nuclear generation is grappling with grave challenges. Cheaper natural gas, lower power demand, and renewables have pushed wholesale power prices down, which consequently made nuclear generation less profitable. President Trump seems to be in favor of supporting nuclear power, and his stance may play a key role in the fate of Plant Vogtle going forward.
SCANA (SCG), the parent company of South Carolina Electric & Gas, has recently backed down from its decision to stop construction of its Santee Cooper nuclear power plant. It's reviewing its decision to abandon the project and still reserves the right to do so. SCANA announced last month that it's abandoning its delayed plant after the project's cost skyrocketed above $18.0 billion.
Westinghouse Electric, a subsidiary of Toshiba, was the principal contractor of Southern Company's Plant Vogtle and SCANA's Santee Cooper nuclear power plant. The costs for both of these power plants shot up significantly after Westinghouse went bankrupt in March 2017. Under the settlement, Toshiba has agreed to pay $3.7 billion to Southern Company for the unfinished Plant Vogtle. Southern Company owns 45.7% of the project.