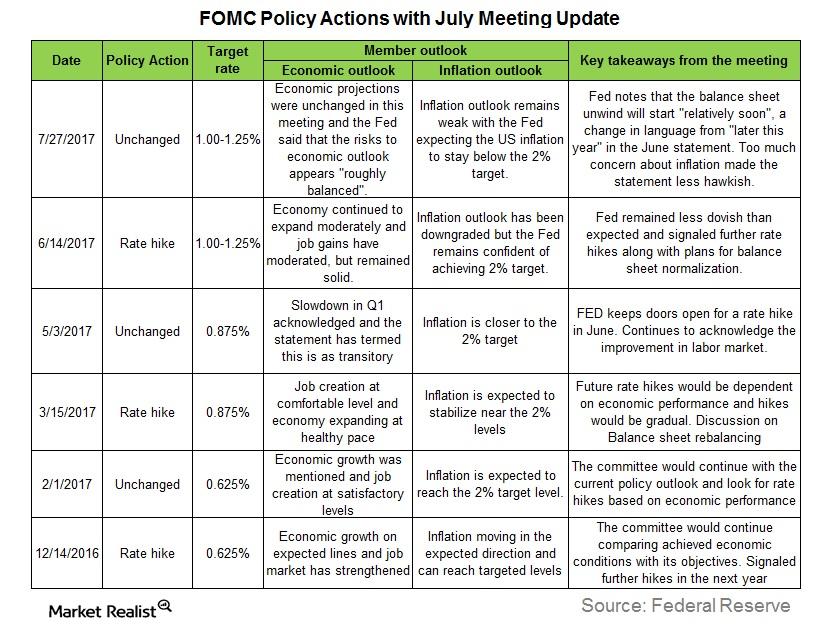 Key Points of the July FOMC Meeting
By Ricky Cove

Aug. 18 2017, Updated 2:46 p.m. ET
Rates left unchanged in July meeting
At the last FOMC (Federal Open Market Committee) meeting on July 26, 2017, interest rates remained unchanged. The FOMC released the minutes of that meeting about three weeks later on August 16, 2017. Those minutes include economic discussions and provide investors with insights into the reasons the Fed kept interest rates unchanged. There were discussions about the current size of the Fed's balance sheet and plans to slowly reduce it. Several members were in favor of announcing a start date for the balance sheet reduction, but the decision was deferred to the next meeting since some members wanted to wait for additional data on economic expansion.
Article continues below advertisement
Key points discussed in the July meeting
At the July meeting, FOMC members discussed possible reasons for inflation (TIP) remaining below the Fed's target, despite unemployment reaching record lows. There were interesting insights about members' views on reducing the responsiveness of inflation (VTIP) to an increase in demand, a shift in the natural rate of unemployment to a lower level, and a lag in wage growth and inflation to a tightening labor market. There were also anecdotes about recent global developments and innovations in the field of technology, which are changing existing business models.