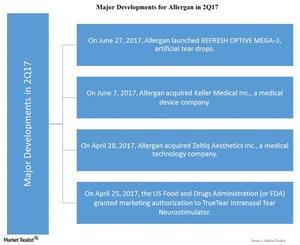 Key Developments for Allergan in 2Q17
By Mike Benson

Updated
Allergan
Allergan (AGN) is a leading pharmaceuticals company involved with pharmaceuticals, over-the-counter products, eye care, and aesthetics products.
Article continues below advertisement
Key developments during 2Q17
The key developments reported by Allergan during 2Q17 are as follows:
On June 27, 2017, Allergan launched REFRESH OPTIVE MEGA-3 drops, which are artificial tear drops formulated with flaxseed oil and castor oil to protect tears from evaporating while strengthening the lipid layer in patients with Meibomian Gland Dysfunction who are suffering from dry eyes.
On June 7, 2017, Allergan announced the acquisition of Keller Medical, a privately held medical device company, for Keller Funnel, which is a cone-shaped, lubricated plastic funnel used during breast augmentation or reconstruction.
On April 28, 2017, Allergan completed the acquisition of Zeltiq Aesthetics, a medical technology company that developed CoolSculpting, a proprietary controlled cooling fat reducing treatment.
On April 25, 2017, the US Food and Drug Administration (or FDA) granted marketing authorization to TrueTear Intranasal Tear Neurostimulator, a handheld stimulator used to increase tear production during neurostimulation.
On April 20, 2017, Allergan announced a collaboration with Target PharmaSolutions in order to advance the research associated with nonalcoholic steatohepatitis (or NASH).
On April 18, 2017, Allergan announced an agreement with Novartis (NVS) to conduct the Phase 2b study in order to evaluate the use of Allergan's Cenicriviroc and Novartis's lead FXR agonist for the treatment of NASH. The study evaluates the safety, efficacy, and tolerability of this multi-therapy treatment.
To divest the company-specific risks, investors can consider ETFs like the Vanguard Healthcare ETF (VHT), which holds 2.2% of its total assets in Allergan (AGN), 2.7% in Gilead Sciences (GILD), 2.9% in Celgene (CELG), and 3.2% in AbbVie (ABBV).