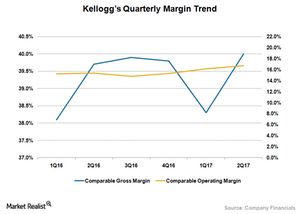 How Did Kellogg Perform on the Margins Front?
Focus on cost savings
Kellogg (K) is banking on lowering costs and driving productivity savings to accelerate its margins growth amid a slowdown in consumption. Through its Project K program and the adoption of ZBB (zero-based budgeting), the company generated significant savings. The savings offset the negative impact of sales deleverage and currency movements.
Article continues below advertisement
Gross margin improved YoY
Kellogg's comparable gross margins (excluding the impact of its Venezuela operations) grew by 30 basis points to 40% during the reported quarter. Improved pricing and mix combined with increased savings from the Project K program and adoption of ZBB more than offset the negatives stemming from lower volumes. Besides, lower input costs supplemented the company's gross margins.
In comparison, General Mills (GIS), Kraft Heinz (KHC), and Conagra Brands (CAG) also reported improved gross margins during their last reported quarter. Higher cost savings more than offset the negative impact of lower sales and increased input costs.
Operating margin grew significantly
Kellogg's comparable operating margin rose by 130 basis points to 16.7%, which reflects higher gross margins and lower SG&A (selling, general and administrative) costs as a percentage of sales. The company's Project K and ZBB initiatives reduced the SG&A expenses by 110 basis points during the quarter.
Outlook
Going forward, Kellogg's management expects more than a 1% improvement in comparable operating margins in 2017. Increased cost savings from Project K and the adoption of ZBB will likely boost the company's margins. However, lower sales will continue to remain a drag.