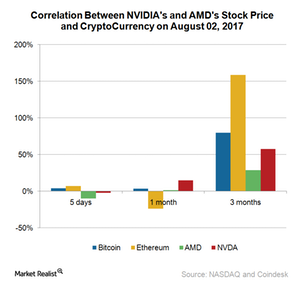 Is the Mining GPU a Long-Term Growth Driver for NVIDIA and AMD?
By Puja Tayal

Aug. 9 2017, Updated 9:09 a.m. ET
Cryptocurrency
There has been a lot of buzz among semiconductor stocks (SMH) about the surging prices of cryptocurrency. Investors have been betting on bitcoin and Ethereum prices through NVIDIA (NVDA) and Advanced Micro Devices (AMD). As a result, the price of the two stocks soared 58% and 29%, respectively, over the past three months.
Many analysts discouraged this correlation between AMD, NVDA, and cryptocurrency trading, stating that such a rally isn't sustainable. This brings us to the question of how AMD and NVIDIA are related to cryptocurrency mining.
Article continues below advertisement
The concept of cryptocurrency started with bitcoin, in which a person solves computational problems to verify transactions on the blockchain to earn coins. This action is known as mining currency. The objective of cryptocurrency was to evenly distribute these puzzles and enable everyone to earn a marginal sum by mining the currency.
The role of GPU in cryptocurrency
However, this model had a flaw. Only the most powerful computers with high-powered ASICs (application-specific integrated circuits) and GPUs (graphics processing units) stood a chance to win the race and earn more bitcoins.
NVIDIA and AMD are the only providers of discrete GPUs used by cryptocurrency miners to boost their processing speed and gain more payments on these platforms. The sudden surge in cryptocurrency prices saw increasing demand for NVIDIA's and AMD's GPUs among miners.
Article continues below advertisement
According to a report by Quartz, Ethereum prices rose from $10 in February 2017 to a peak of $400 in June 2017. The mining returns rose to 40x, and the cost of GPUs remained unchanged. The economic value derived every day encouraged miners to charter a plane to deliver the latest and most powerful GPUs.
This created a GPU shortage in the gaming market, as the entire stock was absorbed by miners alone. A surge in demand boosted sales of AMD's and NVIDIA's low- and mid-range GPUs in the short term.
Mining GPUs: A long-term growth driver for NVIDIA and AMD?
However, the prices of cryptocurrencies are highly volatile and unpredictable. Any demand growth from miners cannot be considered a long-term growth driver for GPU sales, stated AMD's chief executive officer, Lisa Su, during the company's fiscal 2Q17 earnings call. As a result, AMD didn't include mining-related sales in its fiscal 3Q17 guidance.
On the other hand, NVIDIA is a little bullish on cryptocurrencies and is developing GPUs specifically for cryptocurrency mining, according to a product page for unreleased GPUs.
RBC analyst Mitch Steves stated that miners prefer AMD's cards over NVIDIA's. Still, AMD's sales were more than 30% lower than NVIDIA's sales, indicating that the large volume from miners could not offset sales of higher-margin gaming GPUs.
However, AMD's and NVIDIA's stock prices are reacting to this noise created by cryptocurrencies. We'll look into this trend in the next part.