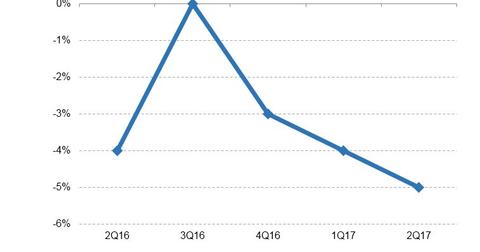 Is IBM's Europe, Middle East, and Africa Performance a Concern?
By Ruchi Gupta

Updated
Revenue declining more rapidly in EMEA
Out of all the regions where the company operates, IBM's (IBM) fortunes are shrinking the fastest in the EMEA (Europe, Middle East and Africa) region. A closer analysis of the company's earnings report for the recent quarters reveals more rapid revenue deterioration in the EMEA region compared to other geographies such as the Americas and Asia-Pacific. Perhaps the weakness signals a tightening competitive landscape in Europe as Amazon (AMZN) and Microsoft (MSFT) up their campaigns.
Article continues below advertisement
In the recently reported 2Q17 earnings, for instance, IBM registered a 5.0% revenue decline in EMEA compared to a 3.0% decline in the Americas and a 1.0% decline in Asia-Pacific. EMEA is IBM's second-most important revenue region. Of the $19.3 billion in revenue the company generated in 2Q17, $9.2 billion came from the Americas, with EMEA contributing $5.8 billion and Asia-Pacific contributing $4.3 billion.
IBM blames UK and Germany for EMEA woes
The 5.0% revenue decline in EMEA accelerated from a 4.0% decline in the prior quarter and a 4.0% decline a year earlier. IBM has blamed its feeble EMEA top-line performance primarily on weaknesses in the UK (EWU) and Germany (EWG), two of the largest economies in Europe.
The above chart documents the decline of IBM's fortunes in the EMEA region.
All is not lost for IBM
In addition to the EMEA weakness, IBM's top line has been on a decline for more than 20 consecutive quarters. However, investors shouldn't take this to mean failure. A lot of the growth initiatives the company has undertaken are still in the early stages, and when they kick into high gear, the story could change dramatically.