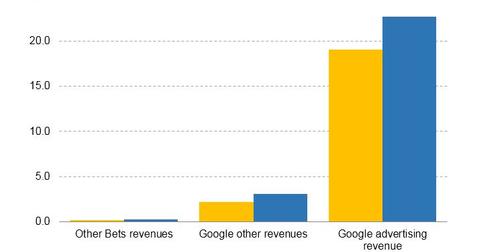 Is Google's Gmail Tweak Part of a Master Scheme?
By Ruchi Gupta

Updated
Breaking over-reliance on ad sales
For Alphabet's (GOOGL) Google, attempting to clarify its different Gmail services and raising the profile of Google Cloud likely goes beyond merely trying to catch up to Amazon.com (AMZN) and Microsoft (MSFT). If Google Cloud catches on, Alphabet stands to reap many benefits.
Besides opening a new revenue stream, a vibrant Google Cloud business would also go a long way in weaning Alphabet off its over-reliance on advertising sales.
Article continues below advertisement
What happens if Google loses its advertising edge?
The bulk of Alphabet's revenue comes from advertising. According to eMarketer, about 57% of all US (SPY) digital ads spending this year will go to Google and Facebook (FB), with Google claiming the lion's share of that portion.
But Google's advertising strength is a cause for both excitement and concern. As competition for online advertising spending has intensified with Twitter (TWTR) and Snap (SNAP) stepping up their campaigns for advertising budgets, the future of Alphabet has been debated in recent years. The persisting question is how the company would cope if it loses its lead as the digital advertising powerhouse.
Going beyond advertising
As such, there's been pressure on Alphabet to find new revenue streams outside advertising, and cloud computing is certainly one of its big bets.
Although Amazon currently has the dominant share of the cloud computing market, Google has suggested that it's only a matter of time before it becomes the world's largest cloud platform. The company's hopes are partly anchored to the fact that only a tiny fraction of qualifying workloads have moved to the cloud.