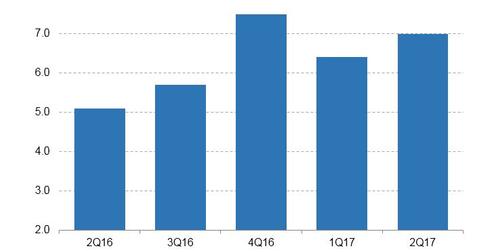 Is Amazon Using Books for FBA Recruitment?
By Neha Gupta

Updated
Benefit of reaching more customers
The move by Amazon (AMZN) to require that booksellers fulfill their orders within eight days instead of 14 days could help the company attract more vendors to its FBA (Fulfillment by Amazon) program.
Under the FBA program, Amazon stores, packs, and ships orders on behalf of vendors on its marketplace. According to Amazon, FBA can help vendors reach more customers and scale their businesses more quickly.
Article continues below advertisement
FBA summit
During 2Q17, Amazon said it hosted a summit called Boost with FBA targeting small entrepreneurs. Amazon noted that more than 1,000 entrepreneurs attended the summit. These attendees learned about the various tools and services available under FBA that they can use to grow their businesses.
Amazon charges for services it offers under FBA. It reports FBA income (QQQ) under its Retail Third-Party Seller Services segment. Revenues in this segment rose 38% year-over-year to ~$7.0 billion in 2Q17, as shown in the chart above.
Benefits of FBA
Bringing more vendors to FBA benefits Amazon in several ways. Because it charges a fee for FBA services, more FBA partners could imply more shipping revenues. FBA provides Amazon with the opportunity to improve its vendor retention as its vendors could sell more products more quickly via its marketplace. 
Vendor retention is an important element of e-commerce competition as Amazon, Alibaba (BABA), JD.com (JD), and eBay (EBAY) try to outdo one another to win over merchants.
FBA also provides Amazon with the opportunity to improve customer experience, thereby allowing it to boost its shopper retention as well.