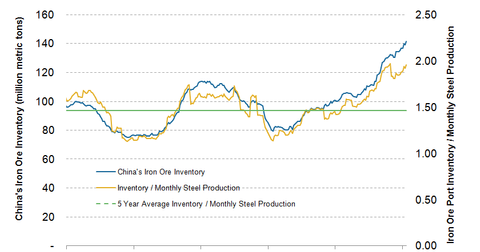 Iron Ore Prices Are Rising Despite Elevated Iron Ore Inventories
By Anuradha Garg

Updated
China's iron ore port inventory
The levels of iron ore port inventory at Chinese ports determine the supply and demand balance for steelmaking commodities (GNR). It also measures the imbalance between supply and steel mill demand. High inventory levels usually mean weak demand for raw materials and vice versa.
Article continues below advertisement
Inventories remain elevated
The inventories at Chinese ports remain high. Despite rising port inventories, the rising seaborne iron ore prices have been a conundrum for analysts. If these inventories rise and demand remains more or less constant, iron ore prices should fall. 
One factor contributing to this seeming anomaly could be the increase of lower-grade material at ports. The steel mills in China are demanding higher-grade material to produce steel more efficiently and reduce pollution. Chinese authorities are coming down heavily on units with high pollution outputs.
According to SteelHome, the port inventories on Chinese ports totaled 139.2 million tons for the week ended August 11, 2017. This is quite close to the record-high level of 141.5 million tons reached on June 23, 2017. Macquarie Bank believes that the continual increase of iron ore inventories despite strong demand could indicate some degree of excess supply.
In addition to the high level of absolute inventory, the inventory-to-steel production ratio also remains quite high. This ratio measures inventory available to keep steel production going. This ratio currently stands at ~1.9x. In comparison, the average of the last five years is close to ~1.5x.
Effect on iron ore prices
Iron ore prices could be hurt by the gradually increasing iron ore inventories at Chinese ports. In this rising supply scenario, demand isn't expected to keep up with supply and is expected to hurt iron ore prices. This trend doesn't bode well for seaborne iron ore players such as Rio Tinto (RIO), Vale (VALE), BHP (BHP) (BBL), and Cliffs Natural Resources (CLF).