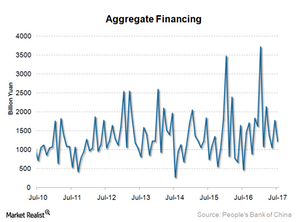 Is China's Easing Credit Growth in July a Temporary Measure?
By Anuradha Garg

Aug. 30 2017, Updated 10:35 a.m. ET
Aggregate financing dropped
Aggregate financing, which measures liquidity, reflects the total funds provided by a financial system to its nonfinancial sectors and households. China's (MCHI) aggregate financing totaled ~1.2 trillion yuan in July 2017, lower than its level of 1.8 trillion yuan in June. However, it was higher than the median estimate of 1.0 trillion yuan.
Article continues below advertisement
New yuan loans
New loans issued by Chinese banks fell month-over-month to 825.5 billion yuan compared to 1.5 trillion yuan in June. The new loans were higher than the median estimate of 800 billion yuan.
M2 money supply growth slowed
While the above two credit measures surpassed economists' expectations, the broad money supply came in below their estimates. The M2 money supply rose 9.2%. The M2 money supply encompasses cash, checking deposits, savings deposits, money market mutual funds, and other time deposits. This metric was lower than the 9.5% growth forecast by economists. 
Investors should recall that the People's Bank of China had noted in its quarterly monetary policy report that slower M2 growth would become the "new normal."
Credit growth conundrum
Chinese authorities are clamping down on excess leverage in the system. The recent batch of data, however, shows that this credit expansion is still underway. 
Most of the market participants are of the view that July's credit easing is probably temporary and is an attempt to project stability ahead of the leadership transition later this year. 
A continuous flow of credit to the sources creating real demand in the economy could be beneficial for the overall economy. These changes could be beneficial to miners supplying raw materials (COMT) to Chinese steel mills. Rio Tinto (RIO), BHP Billiton (BHP) (BBL), Vale (VALE), and the Asia-Pacific division of Cliffs Natural Resources (CLF) are among those players.