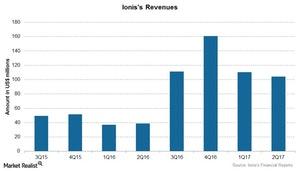 Ionis Reports Revenue Growth in 2Q17
By Mike Benson

Updated
Ionis in 2Q17
Ionis (IONS) is a biopharmaceutical company that discovers, develops, and commercializes RNA-targeted therapies. The company has created a broadly applicable drug discovery platform, and through this platform, it has developed many drugs for the treatment of various life threatening diseases.
The above chart shows revenue trends over the last few quarters. The company's revenues rose to $104.2 million in 2Q17 as compared to $38.5 million in 2Q16.
Article continues below advertisement
Revenues
The company's revenues include revenues from both drug discovery and drug development. The total revenues for Ionis Pharma include the revenues from collaborative agreements for research and development, as well as the licensing and royalty revenues from collaborations with other pharmaceutical companies.
Key drugs in Ionis's portfolio
The company has already completed the development of the following drugs from its severe and rare franchise:
Alicaforsen is for the treatment of pouchitis. Atlantic Healthcare has acquired exclusive worldwide development and commercialization rights for Alicaforsen from Ionis Pharmaceuticals.
The Kynamro injection is an approved treatment for patients with Homozygous Familial Hypercholesterolemia in the US and a few other countries. Kastle Therapeutics, a subsidiary of Sanofi Genzyme (SNY), has acquired the worldwide rights for the development and commercialization of the Kynamro injection.
Apart from these drugs, the company has several drugs in its late-stage pipeline in its severe and rare franchise, as well as its other franchise. The drugs under Phase III clinical trials include the following:
Inotersen, also referred to as Ionis-TTR, is a drug developed for the treatment of transthyretin amyloidosis, a fatal disease where amyloid plaque deposits in tissues increase progressively throughout the patient's body.
Plazomicin is for the treatment of severe bacterial infections.
Volanesorsen is for the treatment of familial chylomicronemia syndrome and familial partial lipodystrophy.
To divest the company-specific risks, investors can consider ETFs like the First Trust Amex Biotechnology ETF (FBT), which holds ~3.0% of its total assets in Ionis Pharmaceuticals. FBT also holds 3.5% in Biogen (BIIB), 3.5% in Gilead Sciences (GILD), and 3.3% in Amgen (AMGN).