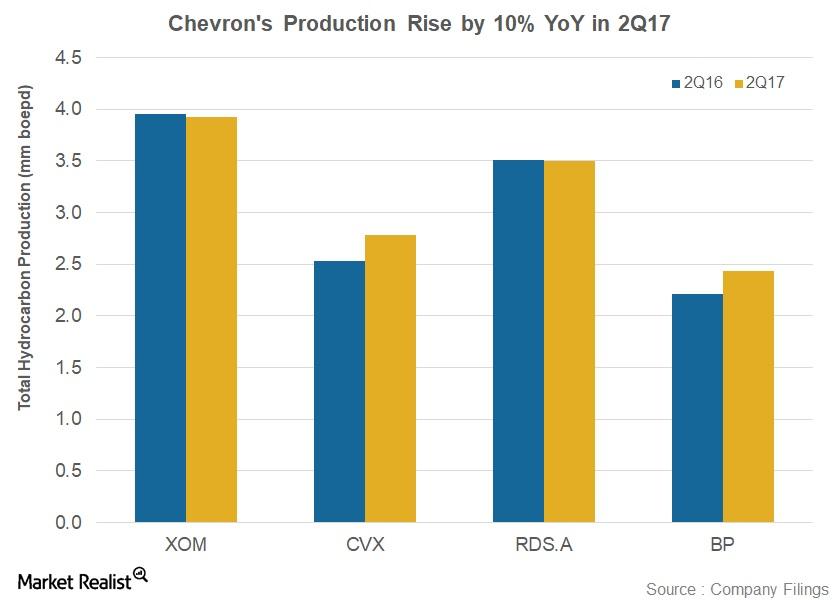 Integrated Energy Companies: Production in 2Q17
Integrated energy companies' production
In this part, we'll compare the total hydrocarbon output and production mix of the top integrated energy companies—ExxonMobil (XOM), Chevron (CVX), Royal Dutch Shell (RDS.A), and BP (BP).
In 2Q17, XOM produced the largest quantity of crude oil and natural gas, at 3.9 MMboepd (million barrels of oil equivalent per day). Second in line was Shell at 3.5 MMboepd. BP and CVX were at 2.4 MMboepd and 2.8 MMboepd of hydrocarbon production in 2Q17.
In 2Q17, CVX and BP saw a rise in production. Their total hydrocarbon production rose 10.0% and 9.9% YoY (year-over-year), respectively, in the second quarter. But their production fell 0.90% YoY and 0.40% YoY, respectively, in 2Q17.
Article continues below advertisement
Production mix of integrated energy companies
XOM, CVX, RDS.A, and BP have huge natural gas and crude oil production. In 2Q17, RDS.A and XOM produced an almost equivalent quantity of natural gas at 9.9 Bscfpd (billion standard cubic feet per day) and 9.7 Bscfpd, respectively. CVX and BP were at 6.1 Bscfpd and 6.3 Bscfpd of gas production, respectively, in 2Q17.
Royal Dutch Shell's (RDS.A) natural gas output comprised 48.0% of its hydrocarbon production in 2Q17, the highest compared to XOM, CVX, and BP. That was due to the acquisition of the BG Group, which had vast natural gas assets. Chevron has the lowest exposure to natural gas, which comprised 37.0% of its total production in 2Q17. XOM's and BP's gas production comprised 42.0% and 44.0% of total production, respectively, in 2Q17.