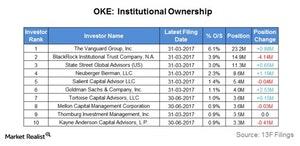 What Institutional Investors' Activity in ONEOK Indicates
Institutions hold nearly 75% of shares outstanding
Nearly 75% of ONEOK's (OKE) outstanding shares are currently held by more than 800 institutional investors. According to the latest filings, 410 investors increased their ONEOK positions while 300 investors decreased their ONEOK positions.
During this timeframe, 82 new positions were initiated whereas 55 institutional investors sold out their ONEOK stock. These changes indicate mixed to slightly positive sentiments of institutional investors for OKE. In comparison, institutional investors own 42% of Plains All American Partners' (PAA) and 59% of Kinder Morgan's (KMI) outstanding shares.
Article continues below advertisement
Top owners
The chart above shows the top ten institutional investors in ONEOK. The Vanguard Group, BlackRock Institutional Trust, and State Street Global Advisors are the top three institutional investors in ONEOK, holding 6.1%, 3.9%, and 3.0%, respectively, of OKE's outstanding shares.
The Vanguard Group and State Street Global Advisors added to their OKE positions whereas BlackRock Institutional Trust Company reduced its OKE position, according to the latest filings.
The sale of 4.1 million shares by BlackRock Institutional Trust Company was the biggest position change among the top ten holders. Together, the top ten investors added net 0.8 million OKE shares to their positions.
Next, let's see where ONEOK's current valuation stands relative to its peers.