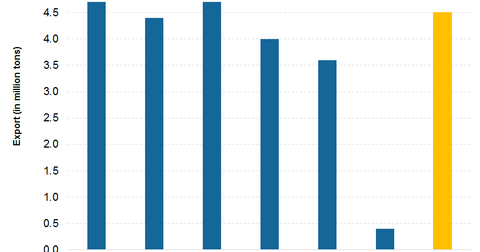 Inside Cloud Peak's Logistics Business and Development Projects
By Alexis Tate

Updated
Cloud Peak's logistics business
In addition to coal mining, Cloud Peak Energy (CLD) runs a logistics business that provides export-related services to the company and other coal producers. In 2016, logistics-related activities contributed to 5.4% of CLD's total revenues, compared with 16.5% in 2015. A large part of the revenues in the segment comes from exports to Asia, primarily through Westshore Terminals in Canada.
During 1H16, Cloud Peak witnessed an absence of exports primarily due to weak international prices for seaborne thermal coal. However, international thermal coal prices increased significantly in 2H16, when China increased imports to offset its declining domestic production levels. An increase in international prices helped CLD resume exports. Cloud Peak exported 0.4 million tons in 4Q16.
Article continues below advertisement
Cloud Peak exported 1.8 million tons to Asian customers in 1H17. Coal mined from CLD's Spring Creek mine is the primary source of Asian exports, mainly due to Spring Creek's proximity to West Coast export terminals, resulting in lower rail costs. CLD's guidance for export is ~4.5 million tons during 2017 assuming continued demand and price support.
Other coal producers (KOL) exporting to Asia include Peabody Energy (BTU), CONSOL Energy (CNX), and Arch Coal (ARCH).
Cloud Peak's development projects
As of December 31, 2016, CLD operates two development projects: Youngs Creek Project and Big Metal Project. Both are located in the northern PRB (Powder River Basin)
Big Metal Project was formed as a result of CLD's contract with the Crow Indians in Montana to mine 20 million tons of coal annually on their reservation for shipment by rail to coal terminals in the Pacific Northwest for export to Asia. The project is named after a legendary Crow chief, and the facilities of Cloud Peak's Spring Creek mine are located to the east of the reservation and will be available for use by Big Metal.