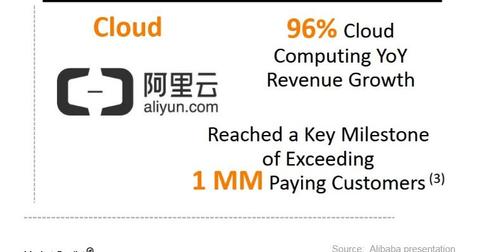 Inside Alibaba's Cloud Business
By Neha Gupta

Aug. 31 2017, Updated 9:38 a.m. ET
Cloud driving top-line growth
Alibaba (BABA) is taking on Amazon (AMZN), Microsoft (MSFT), Alphabet's (GOOGL) Google, and Oracle (ORCL) in the cloud computing sector. While Alibaba remains an underdog in the cloud computing industry in terms of market, the rising profile of its cloud business is hard to ignore.
In fiscal 1Q18, which ended in June 2017, Alibaba singled out cloud computing among its revenue growth drivers despite the cloud representing just a tiny fraction of its top line.
Article continues below advertisement
Cloud sales up 96%
The above chart shows the highlights of Alibaba's cloud performance. Alibaba's (BABA) cloud business goes by various names, including Aliyun and AliCloud. This segment turned in revenues of $359 million in fiscal 1Q18, up 96% from fiscal 1Q17. Cloud contributed 5.0% of the company's total revenues in the quarter. Although the contribution of its cloud business to Alibaba's top line is small, its impact is growing.
Alibaba also launched several cloud products and services during the quarter, allowing it to increase its cloud ARPU (average revenue per user). Alibaba's recent cloud products include those designed to simplify and accelerate migration from on-premise data centers to the cloud environment. These new products include Cloud Storage Gateway and Lightning Cube.
Cloud growth drivers
An increase in the number of paying cloud customers, coupled with expanded cloud services, supported the growth in Alibaba's cloud revenues in fiscal 1Q18. Alibaba noted that it had surpassed 1 million paying cloud customers after it added 137,000 cloud customers in fiscal 1Q18.