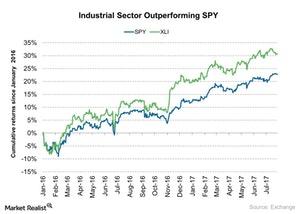 Why the Industrial Sector Remained Weaker in July 2017
Industrial sector
The industrial sector is one of the important sectors of the S&P 500 Index (SPY). After President Trump's win in the US election, many fund managers said that the industrial, technology, and financial sectors will benefit the most during his presidency. President Trump's proposed fiscal stimulus could be an important driver for the industrial sector. However, the weaker earnings growth impacted the performance of the industrial sector in July 2017.
The proposed investment in infrastructure and defense could boost industrial stocks. Billionaire investor Mario Gabelli has an optimistic view on the industrial sector. The industrial sector constitutes nearly 17.2% of his portfolio. Read, What are Gabelli Funds' Largest Holdings?" to know more.
Article continues below advertisement
Industrial sector as compared to broader market
The broader market S&P 500 Index (SPY) rose nearly 2% in July 2017, and XLI rose 0.3%. On a year-to-date basis, XLI has seen a strong rise of 10.5% as of August 2, 2017. The S&P 500 Index rose nearly 9.7% during the same period.
In the next part of this series, we'll analyze the performance of the Volatility Index in July 2017.