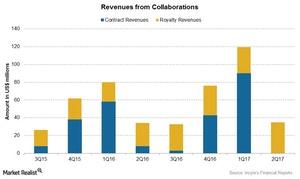 Incyte Had These Key Collaborations and Developments in 2Q17
By Mike Benson

Aug. 23 2017, Updated 11:53 a.m. ET
Incyte's Jakafi and its collaborations
Incyte (INCY) distributes its key drug, Jakafi, through its own network of specialty pharmacy providers and wholesalers in US markets. The company has a well-established distribution network for US markets.
But for outside of US markets, Incyte has entered into a collaborative agreement with Novartis (NVS) for the development and commercialization of Jakafi. Novartis sells Jakafi as Jakavi, and Incyte receives royalties on the total sales of Jakavi from Novartis.
Article continues below advertisement
Recent developments
The recent developments for Incyte include the following:
On July 25, 2017, Eli Lilly (LLY) and Incyte announced that the resubmission of a NDA (new drug application) to the FDA (US Food and Drug Administration) is expected to be delayed beyond 2017. The resubmission will take at least 18 months
On July 20, 2017, Incyte announced the first patient to be treated with Itacitinib under its Gravitas-301 phase-III study, which evaluates the efficacy and safety of Itacitinib as a first-line treatment for acute graft-versus-host disease.
On July 3, 2017, the Japanese Ministry of Health, Labor, and Welfare granted marketing approval for Olumiant 2 mg and 4 mg tablets in Japan for the treatment of patients with rheumatoid arthritis.
On June 16, 2017, Eli Lilly and Incyte announced a pooled analysis of data from eight Olumiant clinical trials. The data showed that patients treated with baricitinib and patients treated with a placebo reported similar rates of serious infections in moderate-to-severe rheumatoid arthritis.
On June 5, 2017, Incyte released the data from an ongoing phase-1/2 Echo-204 clinical trial, which evaluates the drug Epacadostat in combination with Bristol-Myers Squibb's (BMY) Opdivo (nivolumab) in multiple advanced solid tumors.
On June 5, 2017, Incyte also updated data from its ongoing phase-1/2 Echo-202 clinical trial, which evaluates epacadostat in combination with Merck's (MRK) Keytruda (pembrolizumab) in multiple tumor types.
To divest company-specific risks, investors can consider ETFs like the iShares US Healthcare ETF (IYH), which has 0.7% of its total assets in Incyte (INCY). IYH also has 3.0% in Bristol-Myers Squibb (BMY), 5.5% in Merck (MRK), and 2.5% in Eli Lilly (LLY).