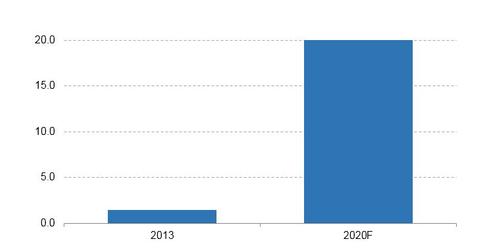 In China Cloud Push, Amazon Must Speak Fluent Chinese
By Neha Gupta

Updated
Local partnership
As Amazon Web Services (or AWS) expands abroad, the Asia-Pacific market is one of its key targets. India (INDA) and China (MCHI) (FXI) are emerging as promising markets. In India, Amazon (AMZN) is pursuing more than $4.1 billion in public cloud computing spending by 2020.
In China, cloud computing opportunities are attractive, but penetrating the market is a challenge. Foreign companies like Amazon and Microsoft (MSFT) are not allowed to sell their cloud services directly in China. Instead, they must partner with local Chinese companies to serve as their cloud vendors in the country.
Article continues below advertisement
Speaking China's regulatory language
To make it in China's Internet economy, foreign companies must speak the country's strict regulatory language. Amazon partnered with Beijing Sinnet Technology to sell AWS in China in compliance with the regulation that prohibits foreign companies from selling cloud services directly in China.
However, it appears that Amazon has a lot more Chinese to learn. According to a recent report by Reuters, Amazon's partner Beijing Sinnet is warning AWS clients in China against circumventing the country's Internet blocks by employing unauthorized VPNs (virtual private networks).
A $20 billion fruit wrapped in thorns
Although Internet censorship is not something Amazon would ordinarily want to do, it must play along in China or forfeit billions of dollars in potential cloud computing revenues (QQQ). According to Bain & Company, China's cloud computing market could be worth $20 billion by 2020. China's cloud computing market was estimated at $1.5 billion in 2013, as shown in the chart above.