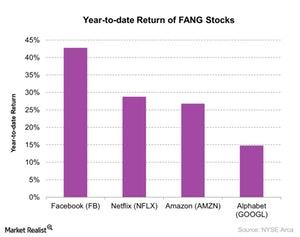 Howard Marks Says FANG Stocks Are Supporting a Bull Market
By Sarah Sands

Updated
Howard Marks on FANG stocks
In his latest investing memo to investors, Howard Marks, billionaire value investor and founder of Oaktree Capital Management, wrote, "Bull markets are often markets by the anointment of a single group of stocks as 'the greatest,' and the attractive legend surrounding this group is among the factors that support the bull move."
In the recent bull market, we see that FANG—Facebook (FB), Amazon (AMZN), Netflix (NFLX), and Alphabet (GOOGL)—stocks are contributing more. These stocks rose about 760.0%, 291.0%, 1,744.0%, and 173.0%, respectively, in the last five years. These companies have excellent business models, and their leadership qualities are unique. Their strong fundamentals are rapidly driving stock prices, which might continue in the future.
Article continues below advertisement
Is Marks concerned about future performance?
Marks said all these factors are encouraging investors to buy these stocks at any price. However, he's concerned about their future sustainable earnings growth. The stocks' market capitalizations are increasing day-by-day. They represent a significant portion of the US stock market in terms of market capitalization.
If we analyze the history of the stock market, we see that investors need to be cautious when prices are at elevated levels. But in the present scenario, investor behavior in these stocks is signaling that they're ignoring the market's history. Marks wrote, "The super-stocks that lead a bull market inevitably become priced for perfection. And in many cases the companies' perfection turns out eventually to be either illusory or ephemeral."
You may also want to read Why Billionaire Jeffrey Gundlach Is Buying S&P 500 Puts.