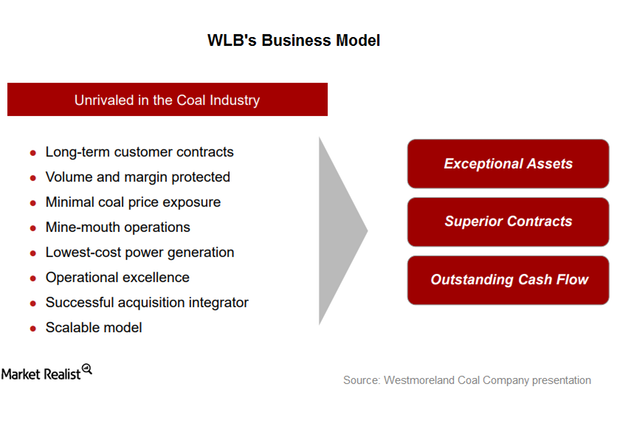 How Westmoreland Coal's Business Model Differs from Peers'
By Alexis Tate

Nov. 20 2020, Updated 10:57 a.m. ET
Business model
Article continues below advertisement
Contract
Westmoreland Coal's contracts are long term and cost protected. According to company filings, its weighted average contract life (contract life weighted by tonnage) extends to 2022.
Low-cost supplier
Westmoreland Coal is the most economic supplier. The company supplies coal to power plants close to its mines using cost-effective means such as conveyor belts. Most of its customers' power plants were designed to use WLB coal. In this way, the company has a logistic advantage over competitors.
Article continues below advertisement
High-margin reclamation
Since most of Westmoreland Coal's contracts are cost-protected contracts—contracts that ensure the return of cost of extraction and a fair return—its cash flow is highly predictable.
MLP operations
Long-term cost-protected contracts are suitable for an MLP structure. In October 2014, Westmoreland Coal acquired the general partner of one of its subsidiaries and entered the MLP space. MLP status provides certain tax benefits. The net income of an MLP isn't taxable. Instead, partners pay taxes on distributions received from the MLP. In the next parts of the series, we'll take a detailed look at the cost-focused operations of Westmoreland Coal's various segments and other activities.