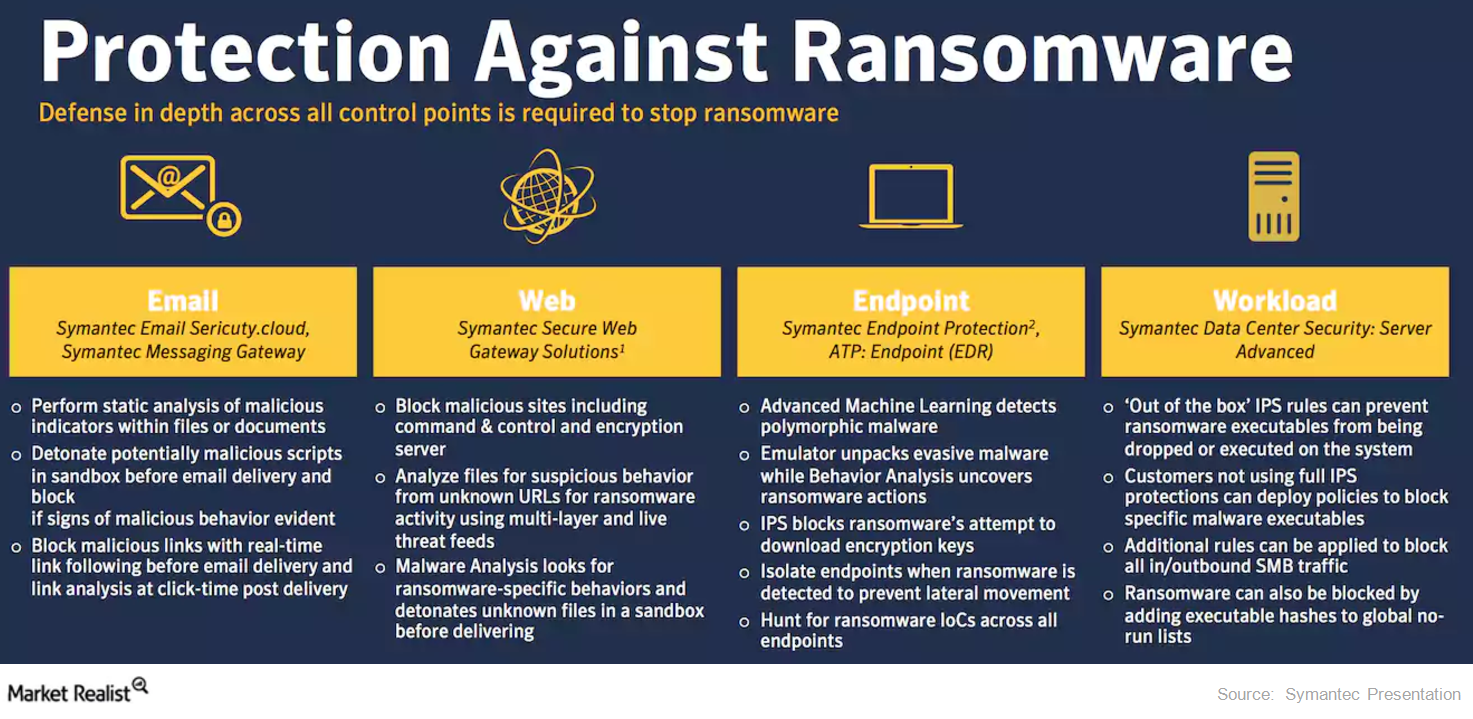 How Symantec's Enterprise Security Segment Performed in Fiscal 1Q18
Symantec's Enterprise Security's double-digit growth in fiscal 1Q18
Previously in this series, we discussed Symantec's (SYMC) stock performance after the company's announcement of its fiscal 1Q18 results. Let's see how Symantec's Enterprise Security segment, which contributes more than 50% toward the company's overall revenues, performed in fiscal 1Q18.[1. fiscal 1Q18 ended June 30, 2017] This segment's revenues grew 39% to $669 million in fiscal 1Q18
DLP (Data Loss Prevention) and Endpoint Protection, which are the fastest-growing subsegments of the company's Enterprise Security Software business, benefited from Blue Coat's integration with Symantec. Symantec's endpoint protection would also get a boost from its recent acquisition of Fireglass, which we'll discuss later in this series.
With respect to the recent ransomware attacks, Symantec stated that its endpoint security offerings proactively protected against both WannaCry and Petya. Symantec reportedly blocked more than 1 billion attempted WannaCry ransomware attacks.
Article continues below advertisement
New Enterprise Security offerings releases by the end of 2017
By the end of this year, Symantec aims to launch the latest version of SEP (Symantec Endpoint Protection) 14.1. SEP 14.1 is the next-generation endpoint security offering that is built upon SEP 14, which was launched in November 2016.
Apart from combining conventional and next-generation functionalities such as advanced machine learning and zero-day exploit prevention, it relies heavily on signature-less technologies and does not require frequent content updates. The company has seen increased traction in SEP's beta release.
Around the time of that it plans to launch SEP 14.1, Symantec aims to release ATP[2. advanced threat protection] 3.0. It also plans to release the company's EDR (Endpoint Detection and Response) offering, which includes Flight Data Recorder capability. Symantec notes that this capability would provide "continuous recording of endpoint activities to get visibility into what's happening on the endpoint to aid incident scoping and traceability."