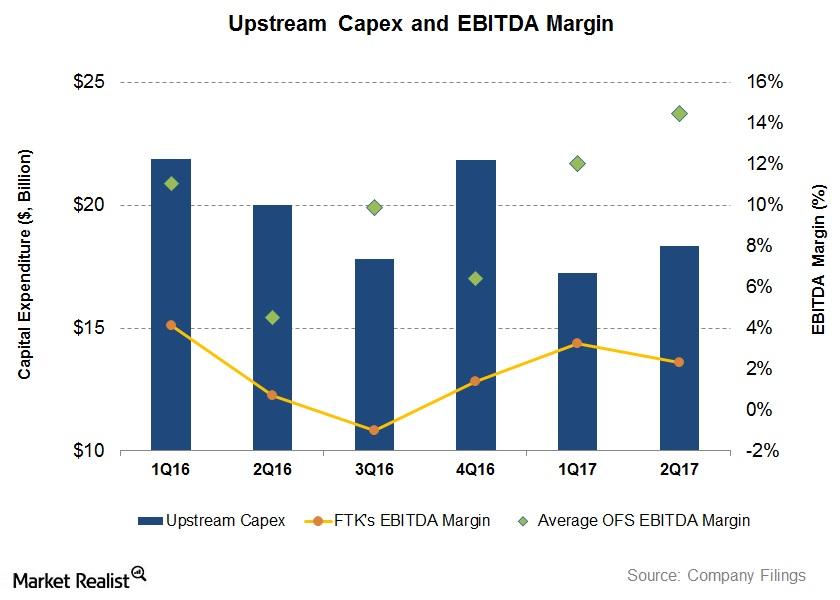 How Rig Count and Upstream Operator Capex Affected FTK
Flotek Industries' EBITDA margin
From 2Q16 to 2Q17, Flotek Industries' (FTK) EBITDA margin (or EBITDA as a percentage of revenues) improved to 2.3% from 0.7%. FTK's EBITDA margin has been 6.3% on average in the past ten quarters. Flotek Industries makes up 0.10% of the iShares Micro-Cap ETF (IWC). From June 30, 2016, to June 30, 2017, IWC rose 26% versus a ~32% fall in FTK's stock price during this period. During the same period, the DJIA-INDEX rose 19%. EBITDA is earnings before interest, tax, depreciation & amortization, and is a measure of a company's operating earnings.
Article continues below advertisement
Upstream operators' capex cut
FTK's EBITDA margin, which improved to 3.3% in 1Q17, retreated in 2Q17. As shown in the graph below, from 2Q16 to 2Q17, 19 of the largest US upstream companies, in aggregate, have reduced capex by 8%. Compared to 1Q17, though, upstream capex rose in 2Q17. Typically, higher upstream capex leads to a rise in revenues and operating margins for oilfield services (or OFS) companies.
EBITDA margin for FTK's peers
Will rig count affect FTK's revenues?
From 1Q17 to 2Q17, Flotek Industries' revenues rose 7%. During the same period, the US rig count rose 14%. Since June 30, 2017, the US rig count has risen a further 2% until the week ending August 4, 2017. In June 2017, the international rig count also increased over the previous month's rig count. A higher rig count could improve Flotek Industries' revenues and earnings in 2Q17.
Next, we'll discuss Flotek Industries' indebtedness.