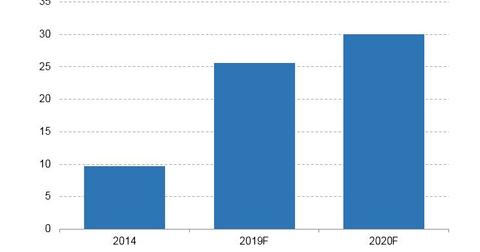 How Relaxed Drone Regulations Could Benefit AT&T
By Ruchi Gupta

Aug. 16 2017, Updated 3:36 p.m. ET
Bending the President's ear
Senior executives at AT&T (T), Verizon Communications (VZ), and CenturyLink (CTL) joined other business leaders in a White House meeting with President Donald Trump in June. The heads of several drone companies were also in attendance.
The meeting, which also brought together portfolio managers and venture capitalists, focused on creating an enabling environment for existing businesses to flourish and new companies to emerge to create lots of jobs for Americans.
Among other issues, the meeting discussed 5G network deployment and drone regulations, with drone makers urging for the speedy adjustment of rules governing the use of commercial drones, according to Fortune.
Article continues below advertisement
Lifting drone restrictions
Under existing regulations, the use of commercial drones is highly restricted. For example, commercial drones aren't allowed to fly at night, and drones can only fly within a range where the operator can see them. The speed and altitude of commercial drones are also limited.
If the government gives in to the desires of business leaders and relaxes drone regulations, AT&T could benefit.
Potential benefits for AT&T
One of the ways AT&T could benefit is that it would be easier for the carrier to deploy its Flying COWs (cells on wings) to bridge network coverage. Relaxing drone regulations would also unlock more possibilities for AT&T in its plan to use drones to carry out automated cell tower inspections.
Relaxed drone regulations would also likely see more drones approved for flight, which could create more demand for mobile Internet under IoT (Internet of Things). As the chart above shows, IDC forecasts that the IoT installed base could reach 30.0 billion devices by 2020.
For this reason, networks operators including AT&T, Verizon, Sprint (S), and T-Mobile (TMUS) are all looking to take advantage of a surge in drone usage to generate more data revenue.