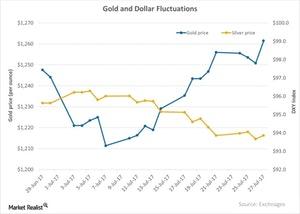 How Precious Metals Have Moved Away from the Dollar
By Meera Shawn

Updated
Precious metal retreat
Precious metals once again saw a down day on Thursday, August 3, 2017, except for platinum, which rose 1.1%. Gold, silver, and palladium fell 0.31%, 0.72%, and 1.3%, respectively, that same day. These metals also had marginal falls on Wednesday, August 2.
July mostly saw precious metals rising as the US dollar experienced a slump in price. However, as the dollar slowly stabilizes, we're seeing precious metals facing downtrends.
Article continues below advertisement
The inverse relationship between the US dollar and precious metals is well known. Since these metals are dollar-denominated assets, their prices suffer from a rise in the dollar. A higher dollar means the greenback assets get more expensive for investors from other countries. So their demand drops, and prices turn south.
Dollar-denominated
That is exactly what happened on August 3, 2017, when the US dollar (UUP) steadied above a two-and-a-half year low against the euro in the previous session. The metals may have lost their strength, but the dollar continues looking wobbly.
The inverse relationship between the two is clearly seen in the 30-day returns. While the U.S. Dollar Index fell a whopping 3.5%, gold rose about 4.0%. The increasing returns of precious metals also extended to their funds such as the SPDR Gold Shares (GLD) and the iShares Silver Trust (SLV). These two funds have risen 10.0% and 4.0%, respectively, on a year-to-date basis.
Among the mining shares that have reacted positively to the loss of the US dollar are Primero Mining (PPP), Silver Wheaton (SLW), Randgold Resources (GOLD), and Yamana Gold (AUY).