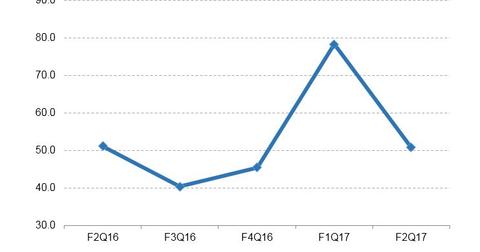 How Much Does Apple's CEO Ranking Really Matter?
By Ruchi Gupta

Updated
Tesla's Musk takes Cook's position
This year, Apple's (AAPL) employees have given their CEO (chief executive officer), Tim Cook, a lower approval than they did last year. Recruitment firm Glassdoor surveys employee sentiments toward their CEOs and reports the findings.
In this year's ranking of CEOs, Glassdoor reported that Cook's approval fell to 93% from 96% last year, bringing Cook's ranking down to 53rd place from eighth place in 2016.
This year, Elon Musk of Tesla (TSLA) replaced Cook as the eighth-ranked CEO, with an approval rating of 98%. Notably, the CEOs of Clorox (CLX), World Wide Technology, and Boston Scientific (BSX) emerged in the highest ranks, with employee approvals of 99%.
Article continues below advertisement
The Apple-Tesla talent war
Apple and Tesla have recently been tussling, specifically by stealing each other's talents at a moment when their ambitions continue to overlap. Apple is eyeing the market for electric and driverless vehicles markets, where it will challenge Tesla and Alphabet's (GOOGL) Waymo. Meanwhile, Tesla has reportedly been eyeing the music streaming business in a challenge to Apple Music.
Who can stem talent outflow?
While the executive rating by Glassdoor means little for many companies or executives, it does offer a clue about employee morale. If employees like their boss, they're more likely to put their best efforts into their jobs. In the case of Apple and Tesla, such a ranking provides a hint about which company can succeed in stemming the brain drain of the ongoing talent wars.
As the chart above shows, Apple has recently struggled with slow growth in its core iPhone business, and so it will need a high level of employee motivation and enthusiasm to turn around its fortunes.