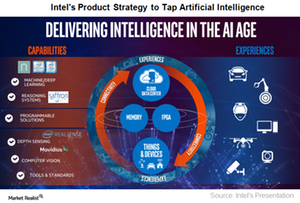 How Intel's Transition to Data Is Progressing
By Puja Tayal

Aug. 29 2017, Published 11:40 a.m. ET
Intel becomes data-centric
Intel (INTC) CEO (chief executive officer) Brian Krzanich took the helm in 2013 when the company's business was suffering from a slowdown in the PC (personal computer) market and lost to Qualcomm (QCOM) in the mobile market. In three years, Brain Krzanich has changed the PC-centric company to a data-centric company focused on future technologies such as 5G networks, self-driving cars, drones, memory, and AI (artificial intelligence).
In 2017, Intel formed AIPG (Artificial Intelligence Products Group) and ADG (Automated Driving Group), both of which are under direct supervision of Krzanich and show his keen interest in tapping these markets.
Intel's diversification of revenue streams reduced its exposure in the PC segment from ~60% in 2013 to ~50% in 2017. It now earns the remaining ~50% of its revenue from the data center, IoT (Internet of things), memory, and FPGA (field programmable gate array) segments.
Article continues below advertisement
But not all diversifications are faring well. Intel's huge investment in wearables and security did not turn out the way it was expected, and the company discontinued some of its wearables chips and spun off its security business. Instead, it increased its investments in AI and the autonomous car space with the acquisition of Altera, Movidius, Mobileye, and Nervana.
Intel completes Mobileye acquisition
Intel completed the acquisition of ADAS (advanced driver assistance systems) leader Mobileye on August 08, 2017, to accelerate innovation in the fast-growing autonomous vehicles market. This led to the formation of ADG, which would compete with Nvidia (NVDA), which is currently leading in the autonomous car market with maximum automotive partnerships and advanced hardware and software for deep learning training.
Intel's product roadmap
This shift away from PCs and toward automotive, memory, and data center saw Intel quit its tick-tock technology model, in which it designs two chip architectures for every process node and builds PC and server processors on that architecture. Instead, Intel started optimizing the same process node—14 nm (nanometer)—across three or more architectures.
The latest update to the technology model is bringing out multiple process nodes and architectures simultaneously to the market. The company's eighth-generation processors are likely to include two 14 nm chips with Kaby Lake Refresh and Coffee Lake architecture and one 10 nm chip with Cannon Lake architecture.
In this series, we'll examine Intel's journey as it transitions to being a data-centric company as well as the impact this journey has had on its earnings. We'll also look at the external opportunities and challenges impacting its business.