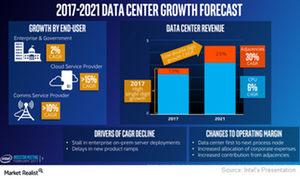 How Intel Plans to Address Competition in the Data Center Space
By Puja Tayal

Updated
Intel's strategy to address data center competition
As the world moves towards connected technology, more companies are looking to grab a share of the data center market. Intel (INTC) dominates the server processor market, with a ~99% share. However, the data center market is moving away from server processing to accelerated processing that can handle AI (artificial intelligence) workloads. NVIDIA is a leader in the AI space, with its GPU (graphics processing unit) computing.
Article continues below advertisement
New products
Over the past two years, Intel acquired AI startups Movidus and Nervana, and FPGA (field-programmable gate array) provider Altera to leverage their technology to develop AI products. In July 2017, Intel launched its Xeon Scalable platform code, Purley, targeted at real-world workloads such as HPC (high-performance computing) and AI. The company reported its highest early shipments yet, shipping over 500,000 Xeon Scalable units to over 30 customers. MKM Partners managing director Ruben Roy expects Purley's ramp-up to boost the DCG's revenue growth rate.
Compared with its predecessor, Xeon Scalable improves performance by over 1.6x and AI inference throughput by 2.4x. Xeon Scalable, when combined with Intel's AI software framework optimization, improves inference performance by 100x. While NVIDIA's (NVDA) GPU (graphics processing unit) technology is widely used in deep learning training, it has no inference exposure.
Article continues below advertisement
Data center strategy
Intel estimates its data center addressable market to be worth $65 billion by 2021. At present, the company is tapping into less than 40% of this opportunity. It is looking to increase this by developing a rack scale solution that combines server processors, Ethernet, silicon photonics, and 3D XPoint memory.
Competition from AMD
As Intel focuses on the changing data center landscape, it is seeing increasing competition from Advanced Micro Devices (AMD), which launched its EPYC server processor in June 2017. This launch was followed by Intel's DCG ASP (average selling price) falling 1% sequentially in fiscal 2Q17. Fiscal 3Q17's earnings will reveal the actual impact of AMD's EPYC processor on Intel's DCG earnings.
Intel is a dominant player in the data center market. Its DCG's revenue is almost four times AMD's overall revenue. Even if AMD succeeds in securing 2%–5% of the server processor market, DCG revenue will not be impacted significantly. Next, we'll look at Intel's IoT (Internet of Things) business.