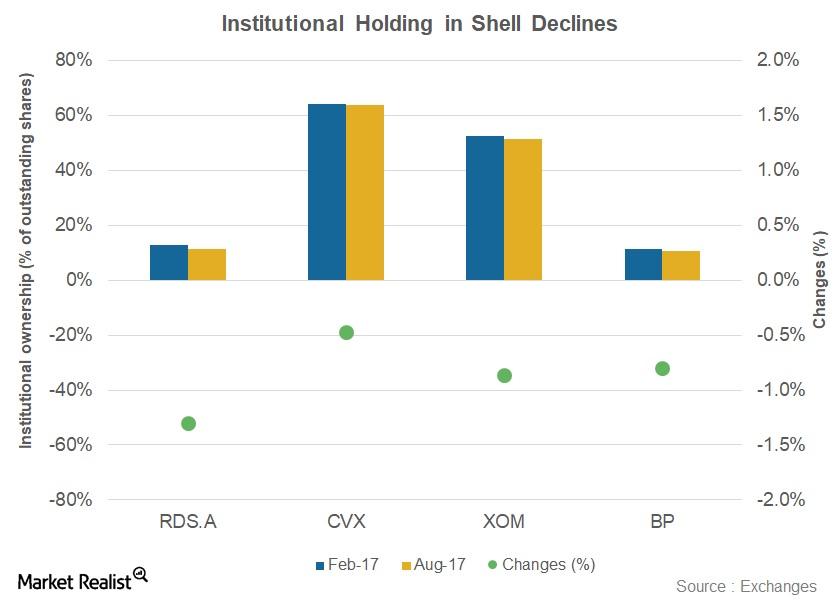 How Institutional Holdings in Shell Are Trending
By Maitali Ramkumar

Dec. 4 2020, Updated 10:51 a.m. ET
Series recap
In the previous part of this series, we saw that analysts expect Shell's dividend payment to remain unchanged in the next quarter. Now we'll look at changes in institutional ownership in Shell.
Article continues below advertisement
Institutional holdings
Institutional holdings show the percentage of a company's shares that are owned by institutions like mutual funds and banks. The level of these holdings suggests the confidence level or sentiment that sophisticated market participants like these institutions have in a stock. Usually, everything else being equal, building institutional ownership indicates a positive opinion about a stock.
Institutional holdings in Shell
Institutional holdings in Shell currently stand at ~11% of outstanding shares, a fall of 1.3% over February 2017. Institutions with significant ownership in the company include Franklin Advisers, Fidelity Management and Research Company, Blackrock Financial Management, and Dimensional Fund Advisers.
Blackrock Financial Management and Dimensional Fund Advisers have increased their total holdings in Shell. However, Franklin Advisers and Fidelity Management and Research Company have reduced their total holdings in the stock.
The large buyers of Shell stock in the past six months have been Blackrock and Two Sigma Investments. However, the prominent sellers have been T. Rowe Price Associates and Arrowstreet Capital Limited Partnership.
Peers' institutional ownership
Shell's peers Chevron (CVX), ExxonMobil (XOM), and BP (BP) also saw a fall in their institutional ownership by 0.5%, 0.9%, and 0.8%, respectively, over February 2017. Institutional ownership in CVX, XOM, and BP stand at ~64%, ~52%, and ~11%, respectively.
To know where Shell stands in terms of forward valuations in comparison to its peers, read the next part of this series.