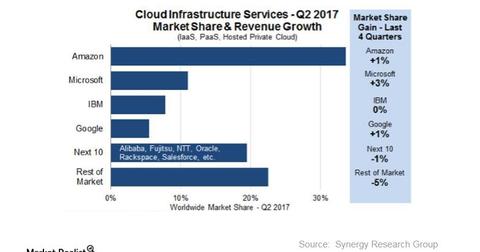 How Google's Gmail Move Puts Amazon on Notice
By Ruchi Gupta

Updated
Announcement from the cloud
The decision by Alphabet's (GOOGL) Google to stop scanning Gmail content for advertising purposes appears to have more than meets the eye. The first hint to this effect came from the author of the blogpost that announced Google's plans to stop the practice of reading emails for personalized Gmail ads.
Notably, the announcement didn't come from Google's advertising team, but from the company's cloud unit—specifically, from Google Cloud chief Diane Greene.
Google tapped Greene in late 2015, appointing her senior vice president of its cloud computing business. Greene co-founded the system virtualization company VMware (VMW), which is now a subsidiary of Dell Technologies (DVMT).
Article continues below advertisement
Drawing enterprises to Google Cloud
Google has made a lot of investments in its cloud division since Greene joined the team. Google has been subdued by rivals Amazon.com (AMZN) and Microsoft (MSFT) in terms of cloud computing market share, and Greene was brought in to help Google raise its cloud profile and catch up to the competition by making Google Cloud more attractive to enterprises. Amazon, through its Amazon Web Services or AWS, is the world's largest public cloud provider, according to Synergy Research Group.
By stopping the practice of scanning Gmail for advertising, Google hopes to bring more clarity to its different client email products. Google offers Gmail services in two tiers: a free version, which is ad-supported, and a paid version without ads, which is part of the G Suite package.
As G Suite is one of Google's cloud productivity tools, Google aims to eliminate confusion about its different Gmail services and encourage the uptake of G Suite among enterprises, thereby driving more cloud sales.
To be sure, for Amazon and Microsoft, the rise of Google Cloud would be a painful thorn in the side.