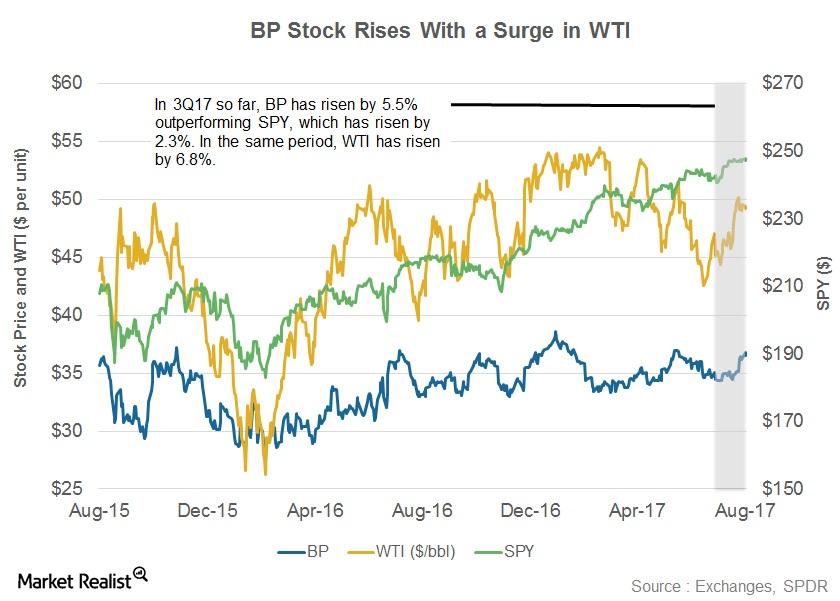 How BP Stock Measures up SPY so Far in 3Q17
By Maitali Ramkumar

Aug. 16 2017, Updated 7:36 a.m. ET
BP stock performance
BP (BP) stock has risen 5.5% in so far in 3Q17. Chevron (CVX) and Royal Dutch Shell (RDS.A) have risen 5.8% and 7.6%, respectively, QTD (quarter-to-date), while the SPDR S&P 500 ETF (SPY) and the SPDR Dow Jones Industrial Average ETF (DIA) have climbed 2.3% and 3.5%, respectively. ExxonMobil (XOM) has fallen 1.0% during the same period.
Article continues below advertisement
WTI rises in 3Q17 so far
Usually, integrated energy stocks show high positive correlations with crude oil prices, and so the rise in WTI (West Texas Intermediate) prices has likely boosted these stocks. The recent rise in oil prices came after a steep plunge. YTD (year-to-date) in 2017, WTI prices have fallen 8.5%.
Since June 21, 2017, oil prices have risen 13.7%. The rise began due to OPEC's (Organization of the Petroleum Exporting Countries) effort to reduce the oversupply in the global market. OPEC and non-OPEC members had a meeting on July 24, 2017. All have agreed to cap Nigeria's oil production, and Saudi Arabia has planned to reduce its oil exports. Russia has also asserted that if production cuts are complied with fully by oil-producing nations, it could remove a significant portion of its excess oil supply from the market.
But oil prices have remained volatile. Libya, for example, could increase production to 1.25 MMbpd (million barrels per day), but an official statement related to capping has not been announced. Libya's production stood at 1.03 MMbpd in July 2017.
Meanwhile, OPEC production still hit a high for the year in July, and exports from OPEC members rose. Notably, OPEC and the non-OPEC technical committee just held a meeting on August 7 to increase compliance with the production cut.
Overall, crude oil prices have surged 6.8% QTD in 3Q17.
BP stock also rises
The rise in oil prices has likely affected BP stock, which has been trending up in 3Q17. Like WTI's performance, BP stock has lost 2.2% YTD but has risen 4.5% since June 21.
BP stock has risen 5.5% QTD, likely due to higher oil prices. Better 2Q17 numbers have supported BP's stock price, and at the same time, BP has seen the startup of three major upstream projects so far this year. With this in mind, it's no wonder BP stock is outperforming SPY in 3Q17.