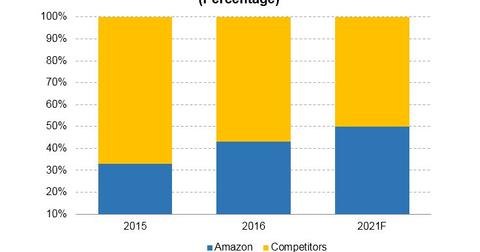 How Being Opaque Could Help Amazon
By Ruchi Gupta

Updated
Amazon blocks price spying by rivals
A few recent reports suggest that Amazon (AMZN) is trying to operate a somewhat opaque retail system to protect its e-commerce dominance as competition in the industry heats up.
In May, Reuters reported that Amazon quietly tweaked its site in a way that blocked rivals such as Walmart (WMT) from tracking its prices. Online retailers have a habit of scanning competitors' prices so that they can adjust their own prices to stay competitive.
Article continues below advertisement
Anti-price comparison technology
Last month, The Washington Post, which is owned by Amazon founder and CEO Jeff Bezos, reported that Amazon had patented a technology that prevents shoppers from comparing prices online while in a store.
For example, a shopper inside a Whole Foods (WFM) store would be unable to check prices on websites of rival grocers Walmart, Costco (COST), or Kroger (KR), as long the shopper is connecting to the Internet through Whole Foods' Wi-Fi. This way, Amazon could prevent customer loss at the moment of purchase.
Undercutting competitors
If Amazon's patent and move to prevent rivals from scanning its prices are viewed together, they portray a retailer leveraging its technological prowess to keep competitors in the dark and preserve its market dominance.
Amazon captured 43.0% of US (SPY) online retail sales in 2016, according to Slice Intelligence. According to Internet Retailer, Amazon's share of the market was 33.0% in 2015, while Needham & Company projects Amazon will claim about 50.0% of the market by 2021.