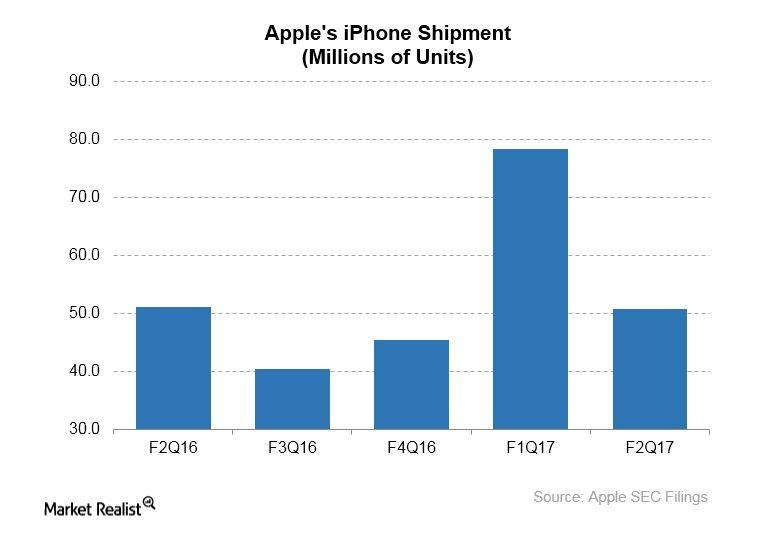 Has Apple Spoiled the Bunch?
By Ruchi Gupta

Aug. 4 2017, Updated 2:35 p.m. ET
Qualcomm sees coordinated efforts to hurt it
Qualcomm (QCOM) is no longer at ease. The company's revenue and profit fell in its latest quarter, fiscal 3Q17, as it didn't receive royalty payments from Apple (AAPL).
Qualcomm's dispute with Apple over technology licensing terms has dragged on for months and drawn many interested parties—all of which are siding with Apple. This situation has forced Qualcomm to complain about coordinated efforts to harm it.
After four Apple suppliers countersued, and a lobby group representing the likes of Microsoft (MSFT) sided with Apple in the raging patent dispute, Qualcomm claimed its critics were out to mislead trade regulators.
Article continues below advertisement
Apple withholding Qualcomm's payments
Apple and its contract manufacturers in Asia have refused to release royalty payments to Qualcomm because they claim that Qualcomm is burdening them with expensive technology licensing charges and that its contract terms are at odds with antitrust regulations. Qualcomm responded in June, asking the USITC (US International Trade Commission) to block imports and sales of iPhones that infringe on its patents. A few weeks later, it sought a similar action against Apple in Germany.
Apple does not use Qualcomm's modem chips in its latest phones. It instead uses chips from Intel (INTC)—though Qualcomm still claims that iPhones bearing Intel's wireless chips violate its patents. Apple sold 50.8 million iPhones worldwide in its fiscal 2Q17 (March quarter), as shown in the chart above.
Qualcomm's dominance has become a liability
Qualcomm's demand to ban imports of iPhones has attracted the rebuke of the CCIA (Computer and Communications Industry Association), a lobby group that represents Alphabet's (GOOGL) Google, Facebook (FB), and Microsoft. The CCIA sees Qualcomm's actions as an effort to quash competition, while Qualcomm argues that the CCIA is trying to misdirect the USITC.
It looks like Qualcomm's firm hold on the mobile chip market has become a liability in recent years, making the company a target of many, including government agencies.