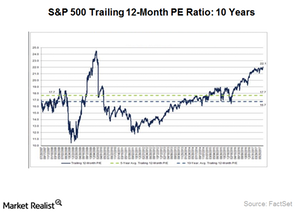 How Gold Investors Can Assess the Potential Dip in Equity Markets
By Anuradha Garg

Updated
Is the equity market overvalued?
The equity markets (SPY) (SPX) have been touching higher highs, remaining above their trailing moving averages. This trend is making market participants more nervous regarding the potential correction.
The current higher highs of the US equity markets justifiably leads to a question if the markets are becoming overvalued. Going by the historical standards, the valuation remains quite high.
According to research conducted by Goldman Sachs (GS), the equity markets look overvalued by "almost every metric." The report added that the price-to-earnings (or PE) multiple of the S&P 500 has risen 80% since 2011. The firm expects the S&P 500 to fall 3% by the end of the year. The trailing 12-month PE ratio for the S&P 500 is 22.1, which is significantly higher than the last ten-year average of 16.7.
Article continues below advertisement
Equity market concerns and gold
One of the concerns of the market participants is the worsening of the economic reform and infrastructure agenda of the Trump administration. One of the factors supporting equity markets at the beginning of 2017 was Trump's business-friendly agenda. Another factor that can support higher valuations is higher corporate earnings growth going forward.
That, however, doesn't seem to be panning out in favor of a high valuation. According to Factset, the estimated earnings growth for 3Q17 is 5.2% compared to the actual blended earnings growth of 10.2%.
Under such a scenario, investors could look for alternative investments offering returns. Gold certainly is an investment that offers returns through capital appreciation and could provide capital safety in the face of geopolitical turmoil.
The strength in gold favors gold miners such as Barrick Gold (ABX), Gold Fields (GFI), Kinross Gold (KGC), and Coeur Mining (CDE), which are leveraged plays on gold (JNUG). These stocks can appreciate more than gold prices in the event of an upturn and vice versa.