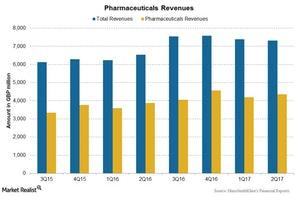 Why GlaxoSmithKline's Pharmaceuticals Business Grew
Pharmaceuticals segment
GlaxoSmithKline's (GSK) pharmaceuticals business includes various franchise like HIV products, immuno-inflammation products, respiratory products, and established products. The Pharmaceuticals segment reported revenues of 4.36 billion pounds during 2Q17—12% growth compared to 2Q16. At constant exchange rates, the pharmaceuticals business reported 3% growth for 2Q17 and a 9% positive impact from foreign exchange.
Article continues below advertisement
The above chart shows key pharmaceutical products' revenue. The Pharmaceuticals segment's revenue growth during 2Q17 was driven by the strong performance of its HIV products—Triumeq and Tivicay. The revenue growth was also driven new pharmaceutical products including Relvar/Breo Ellipta, and Nucala. The growth was partially offset by divestitures. The Pharmaceutical segment contributed ~59.5% of GlaxoSmithKline's total revenues during 2Q17.
HIV products
GlaxoSmithKline is a major shareholder of ViiV Healthcare. The company markets HIV products. ViiV Healthcare also has Pfizer (PFE) and Shionogi among its shareholders. Its HIV products reported revenues of 1.12 billion pounds during 2Q17—17% growth in operating revenues compared to 2Q16. HIV sales account for ~25% of the total pharmaceuticals sales.
Global pharmaceuticals
Global pharmaceuticals include immuno-inflammation, respiratory, and established products. Global pharmaceuticals reported revenues of 3.24 billion pounds in 2Q17.
At constant exchange rates, the immuno-inflammation products reported 9% sales growth to 93 million pounds, while respiratory products reported 4% sales growth to 1.80 billion pounds during 2Q17.
However, established pharmaceuticals reported sales of 1.35 billion pounds during 2Q17—a 7% fall at constant exchange rates compared to 2Q16.
To divest company-specific risks, investors can consider ETFs like the Vanguard FTSE Europe ETF (VGK), which holds 0.9% of its total assets in GlaxoSmithKline. VGK also holds 1.9% in Novartis AG (NVS), 1.7% in Roche Holdings (RHHBY), and 1.0% in Sanofi (SNY)