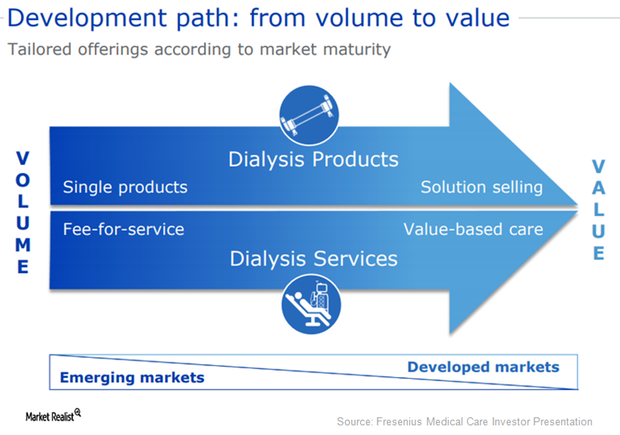 Fresenius Medical Care Is a Global Leader in the Dialysis Segment
By Margaret Patrick

Aug. 18 2017, Updated 10:37 a.m. ET
Global leader in dialysis space
In addition to selling dialysis products, Fresenius Medical Care also offers dialysis treatment and associated laboratory services to patients through its network of 3,690 clinics. In 1H17, Fresenius Medical Care (FMS) earned ~7.4 billion euros from the sale of healthcare services, which represents year-over-year (or YoY) growth of 15% on a reported basis and 11% on a constant currency basis. 
This growth is mainly attributed to the robust performance of the Care Coordination business in North America and Asia-Pacific (or APAC) markets such as Korea, China, and Taiwan. This growth also resulted from the acquisition of a majority stake in Cura Group, a day hospital operator in Australia, which was announced in February 2017.
Article continues below advertisement
Fresenius Medical Care (FMS) offers its dialysis products and services in 120 countries. The company has a presence in ~80 countries in the EMEA market and ~20 countries in the APAC market. Fresenius Medical Services runs ~710 clinics in 27 countries in the EMEA market and ~370 clinics in 11 countries in the APAC market. The company operates 18 production sites in EMEA market and eight production sites in APAC market.
Fresenius Medical Care is working to successfully develop diverse and targeted strategies to penetrate the developed and emerging economies in the EMEA and APAC markets. These efforts may have a favorable impact on its stock price as well as the Vanguard International Dividend Appreciation ETF (VIGI). Fresenius Medical Care makes up ~0.32% of VIGI's total portfolio holdings.
Adaptive strategy
To compete effectively with other diagnostic players, Fresenius Medical Care (FMS) has formulated a strategy that can adapt to the differences in dialysis markets in developed and emerging economies. FMS's competitors include DaVita (DVA), Laboratory Corporation of America Holdings (LH), and Quest Diagnostics (DGX).
Because value-based care has been gathering support in developed markets, Fresenius Medical Care has been focusing on solution selling in these markets. However, in emerging markets, the fee-for-service model tends to dominate. So, the company's focus is on selling individual products in these markets.