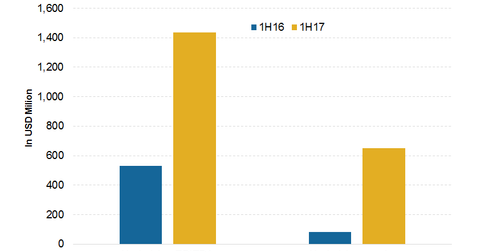 What's Driving Rio Tinto's Energy and Minerals Division?
By Anuradha Garg

Updated
Rio's Energy and Minerals division
Investors should recall that Rio Tinto (RIO) restructured its divisions in 2016. Coal moved out of the copper division into Minerals, while diamonds were moved to Copper. Rio's Energy and Minerals division now includes coal, iron ore pellets, titanium dioxide, borates, salt, and uranium.
Article continues below advertisement
Demand dynamics
According to Rio's management commentary, the demand for titanium dioxide feedstock increased in 1H17 as the industry absorbed excess inventories. The improvement in pigment demand is also supporting titanium dioxide. Rio also noted that zircon prices have improved due to short-term supply tightness, while the underlying demand remains largely flat.
Demand for borates has returned to growth in 1H17, supported by construction-related industries in North America. Improving global agricultural fundamentals and underlying demand in India and China are also supporting demand for borates.
Uranium and coal
Uranium prices, on the other hand, remained weak during 1H17 due to oversupply. Rio Tinto expects this situation to continue for several years.
Coal prices also fell in 1H17 from the levels seen at the end of 2016, though prices in 1H17 were still higher than 1H16. Rio achieved coking coal prices of $177 per ton on a FOB (free-on-board) basis in 1H17, which was 124% higher YoY (year-over-year). The realized prices for thermal coal were also 53% higher YoY at $78 per ton.
Article continues below advertisement
Higher coal prices have been helping other primary coal and diversified players in the industry. BHP Billiton (BHP) reported strong coal production results in 2Q17 and increased its metallurgical coal production expectations for fiscal 2018. Among other coal producers (KOL), Alliance Resource Partners (ARLP) reported a 2Q17 earnings beat, while Cloud Peak Energy (CLD) missed its analyst consensus earnings estimate for 2Q17.
The segment's performance
This segment's earnings were $652 million in 1H17—almost eight times higher than its 1H16 earnings. This surge was due to higher prices for coal and iron ore and lower depreciation following reclassification.
The segment also generated net cash from operating activities of nearly $1.1 billion, or 150% higher YoY, in 1H17. This supported free cash flow generation, which came in nearly three times higher at $908 million.