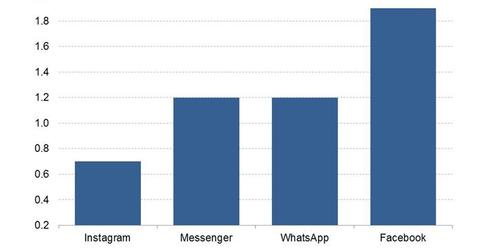 Why Facebook Is Withdrawing WhatsApp from the IBM Cloud
By Ruchi Gupta

Aug. 2 2017, Published 3:44 p.m. ET
Facebook searching for cost synergies
Facebook (FB) is pulling its WhatsApp hosting from IBM (IBM) Cloud to its own data centers, according to a recent CNBC report. WhatsApp has been hosted on IBM Cloud for years—before it was acquired by Facebook in 2014. Withdrawing WhatsApp from IBM's cloud is viewed as part of Facebook's search for operating synergies.
Facebook has developed more efficient server technology under its OCP (Open Compute Project), which is saving it a significant amount of money in its data center operations. Facebook disclosed in 2015 that it had saved more than $2.0 billion in costs from OCP in the previous three years.
By bringing WhatsApp to its data centers, Facebook would eliminate its expenses for hosting the app on IBM Cloud.
Article continues below advertisement
Facebook's app patterns
Pulling WhatsApp from a third-party cloud wouldn't be a surprising move, as the company has done this with other apps it has acquired. For example, by the time Facebook acquired WhatsApp, it was already in the process of migrating Instagram's hosting from Amazon Web Services (AMZN) to its own data centers.
WhatsApp has garnered 1.2 billion monthly active users, similar to the user base of Facebook's Messenger and higher than the 700.0 million Instagram users. The flagship Facebook app has nearly 2.0 billion monthly subscribers, as shown in the chart above.
A setback for IBM in cloud competition