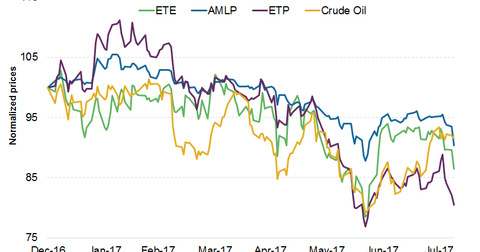 ETE's and ETP's Price Forecasts after 2Q17 Earnings
By Kurt Gallon

Updated
Market performance
In this article, we'll look at Energy Transfer Equity's (ETE) and Energy Transfer Partners' (ETP) price forecast based on its implied volatility. But first, let's analyze the recent market performance of the two publicly traded partnerships. ETE and ETP plunged the day after the 2Q17 earning releases due to general weakness in the midstream sector after Plains All American Pipelines (PAA) released weak 2Q17 earnings and announced plans to cut distribution for the second time.
Article continues below advertisement
Plains All American Pipeline's has experienced a significant decline at its Supply and Logistics segment in 2Q17, which lowered the segment's guidance. However, ETP is still optimistic about its crude oil marketing assets. For details on PAA's 2Q17 earnings, read Why Plains All American Is Expecting Another Distribution Cut.
ETE's and ETP's shares recovered significantly on the following day with single-day gains of 5.8% and 3.6%, respectively. At the same time, the Alerian MLP ETF (AMLP), which comprises 25 energy MLPs, was up 0.9%, which could be attributed to ETP's strong 2Q17 earnings and positive update on a few projects.
Overall, ETE and ETP have lost 8.5% and 16.6% since the beginning of 2017. AMLP has fallen 10.5%. ETE and ETP are underperforming AMLP by 200 bps (basis points) and 510 bps in 2017, respectively.
Moving averages
ETE rose above its short-term (50-day) average, driven by the recent rally. However, ETP is still trading below the short-term moving average. ETE was trading 2.7% above its 50-day SMA (simple moving average) and 1.2% below its 200-day SMA as of August 9. At the same time, ETP was trading 1.3% and 14.5% below the respective historical averages. Positive 2Q17 earnings and recovery in crude oil and natural gas prices might push ETP above its 50-day moving average, resulting in bullish sentiment.
Price forecasts
Energy Transfer Equity's and Energy Transfer Partners' 30-day implied volatilities were 28.46% and 26.41% as of August 9, 2017. Based on their respective implied volatility and their August 9 closing prices of $17.67 and $20.03, Energy Transfer Equity and Energy Transfer Partners might trade in the range of $17.67–$18.37 and $19.30-$20.76, respectively, in the next seven days. ETE's and ETP's stock prices are expected to be within this range 68.0% of the time, assuming a standard deviation of one and normal distribution of prices.