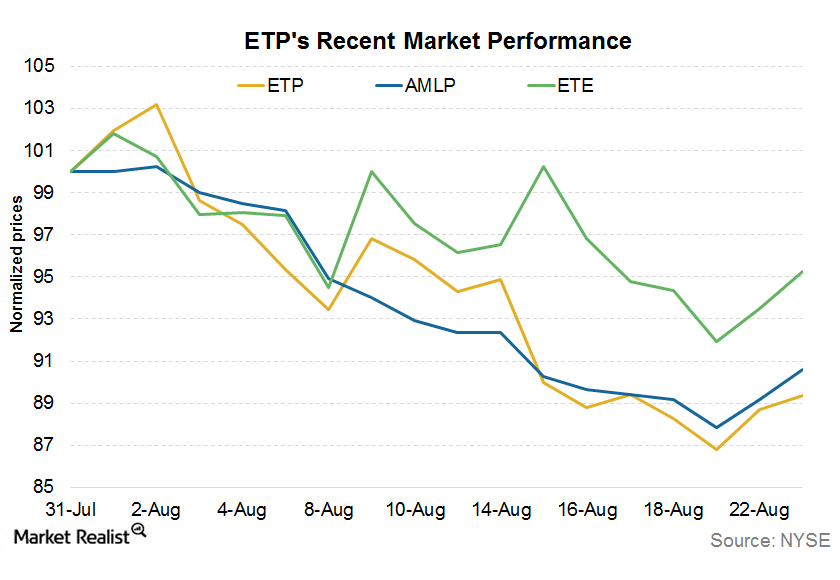 Energy Transfer Partners' Legal Battles Continue
By Kurt Gallon

Aug. 28 2017, Updated 7:37 a.m. ET
Energy Transfer Partners sued Greenpeace
Energy Transfer Partners (ETP) recently filed a federal lawsuit against environmental groups that opposed the partnership's DAPL (Dakota Access Pipeline). According to the related press release, the environmental groups include "Greenpeace International, Greenpeace Inc., Greenpeace Fund, Inc., BankTrack And Earth First!" collectively referred to as "Enterprise."
The controversial DAPL faced long delays due to protests by the Standing Rock Sioux Tribe. The tribe was supported by the environmental groups. The Bakken Pipeline project, which includes the DAPL pipeline, came online in June 2017 after receiving a federal permit from the Trump Administration. The pipeline still faces legal trouble. Recently, the federal judge ordered a fresh environmental review of the pipeline.
Article continues below advertisement
The partnership alleges that the Enterprise "manufactured and disseminated materially false and misleading information about Energy Transfer and the Dakota Access Pipeline ("DAPL") for the purpose of fraudulently inducing donations, interfering with pipeline construction activities and damaging Energy Transfer's critical business and financial relationships. The Complaint also alleges that the Enterprise incited, funded, and facilitated crimes and acts of terrorism to further these objectives." Energy Transfer Partners is seeking compensation from the Enterprise for the losses it has incurred due to delays and loss to property.
Market performance
Energy Transfer Partners and the midstream sector have been very weak since the beginning of August. The partnership has lost 10.7% in August. At the same time, the Alerian MLP ETF (AMLP), which is comprised of 25 energy MLPs, has lost 9.3%. Recently, Energy Transfer Partners saw a new 52-week low of $17.96. AMLP also saw a new 52-week low of $10.5. The partnership's current weakness could be attributed to its recent secondary offering, volatility in commodity prices, general pessimism in the sector, and political uncertainties.
Article continues below advertisement
Energy Transfer Partners has lost 23.1% since the beginning of the year. In comparison, the company's peers Kinder Morgan (KMI) and DCP Midstream (DCP) have lost 8.4% and 20.0%, respectively. AMLP has lost 13.7% in 2017. Energy Transfer Partners' general partner, Energy Transfer Equity (ETE), has lost 12.8% year-to-date.
Energy Transfer Partners is underperforming AMLP by 940 basis points. The company's underperformance could be due to its relatively higher crude oil exposure and project delays. For a comprehensive overview of the top five controversial pipeline projects in the US, read Controversy in the Pipeline: The Top 5 Hot-Button Projects.
Series overview
In this series, we'll discuss whether Energy Transfer Partners can gain upward momentum. We'll look at the company's technical indicators, valuations, and analysts' recommendations.