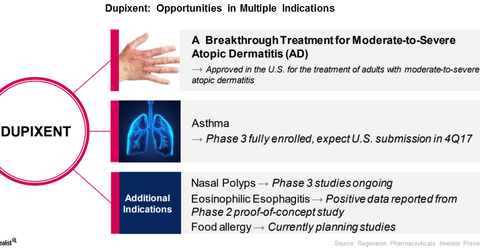 Dupixent and Kevzara: Regeneron's Long-Term Growth Drivers?
By Daniel Collins

Updated
Dupixent revenue trends
In 2Q17, Regeneron Pharmaceuticals' (REGN) Dupixent generated revenues of $28.6 million. End-user demand in the US market primarily attributed to the growth in the quarter. Since the launch of Dupixent in March 2017, the drug has received a positive opinion from patients, physicians, and payers. Regeneron is working with payers to ensure that suitable patients can access the drug. Regeneron anticipates achieving a broad market access by the end of 2017.
Article continues below advertisement
In July 2017, the European Medicines Agency's Committee for Medicinal Products for Human Use recommended a positive opinion to the European Commission for the marketing authorization of Dupixent for the treatment of adult individuals with moderate-to-severe atopic dermatitis. To know more about Dupixent, please refer to Dupixent Could Substantially Drive Regeneron's Growth.
Regeneron Pharmaceuticals is conducting various clinical trials for label expansion of Dupixent. Presently, Regeneron is conducting a Phase 3 trial for the evaluation of the safety and efficacy of Dupixent for the treatment of asthma and pediatric asthma.
Kevzara revenue trends
In 2Q17, Kevzara generated revenues of around $0.80 million. In June 2017, the European Commission granted Regeneron marketing authorization for Kevzara therapy for adults with moderate to severely active rheumatoid arthritis in the European Union.
Previously, in May 2017, the FDA (U.S. Food & Drug Administration) approved Kevzara for the same indication. Kevzara was launched in the US market in May 2017, and since then, feedback from physicians has been positive. The company anticipates a steady revenue growth.
Regeneron is presently enrolling patients in a Phase 2 trial with Kevzara for the evaluation of its safety and efficacy in the treatment of individuals with polyarticular course juvenile idiopathic arthritis. To know more about Kevzara, please refer to Kevzara Launch Could Boost Regeneron's Revenue Growth. Kevzara's peers in rheumatology drugs include AbbVie's (ABBV) Humira, Johnson & Johnson's (JNJ) Remicade, and Amgen's (AMGN) Enbrel.
Growth in sales of Regeneron Pharmaceuticals' Kevzara and Dupixent could boost the stock price of the Vanguard Growth ETF (VUG). Regeneron Pharmaceuticals makes up about ~0.37% of VUG's total portfolio holdings.