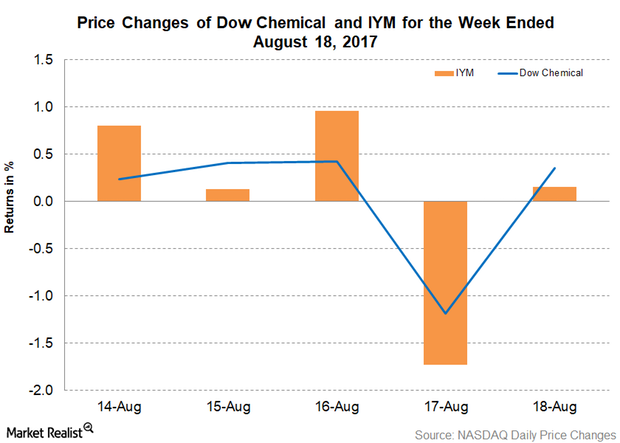 Dow Chemical Commissioned All 26 Plants at Sadara
Dow Chemical's progress on Sadara
On August 14, the joint venture company of Dow Chemical (DOW) and Saudi Aramco, Sadara made the announcement that all 26 plants have been commissioned. The Sadara facility is the world's largest chemical complex. It manufactures propylene oxide, propylene glycol, ethylene oxide, glycol ethers, amines, isocyanates, and polyether polyols. The facility is already serving more than 600 customers involving 70 countries and 32 polyethylene products. Another four new products will be added to it by the end of 2017.
Article continues below advertisement
Th progress provides a major boost for Dow Chemical and plays a significant role in the company's future growth. Andrew Liveris, Dow Chemical's chairman and CEO, took part in the commissioning celebration. He said, "Today marks a pivotal moment for this game-changing joint venture – for Dow, our partners at Saudi Aramco and for the Kingdom of Saudi Arabia – delivering market-driven solutions that have never before been manufactured in the Kingdom and supporting the diversification of its economy in line with Vision 2030. Dow has been a strategic partner in Saudi Arabia for more than four decades and is the Kingdom's largest foreign investor. Commissioning of Sadara's final plant marks a pivotal moment in the history of this landmark public and private partnership that advances Dow's growth strategy and will help transform the Kingdom's rich resources into solutions for the world through a thriving manufacturing sector."
Stock performance
Dow Chemical almost remained flat with a marginal gain of 0.20% and closed at $63.40. As a result of the stock price decline, Dow Chemical is trading marginally below its 100-day moving average price of $63.45. On a year-to-date basis, the stock has returned 10.80%. Dow Chemical's relative strength index of 43 indicates that the stock isn't oversold or overbought. Investors should note that the merger between DuPont (DD) and Dow Chemical is expected to close on August 31. Starting on September 1, DowDuPont is expected to trade under the new ticker "DWDP."
Investors can hold Dow Chemical indirectly by investing in the iShares U.S. Basic Materials ETF (IYM), which has invested 11.50% of its portfolio in Dow Chemical. The fund's other holdings include Monsanto (MON) and Praxair (PX) with weights of 8.30% and 6.10%, respectively, as of August 18, 2017.