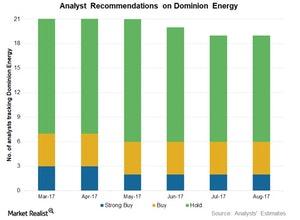 Dominion Energy's Target Prices and Growth Outlook
Dominion Energy's target prices
According to analysts' estimates, Dominion Energy (D) has a target price of $79.31—compared to its current market price of $77.86, which implies an estimated gain of 2%.
Analysts seem to be positive on Dominion Energy stock. As of August 3, 2017, none of the analysts rated the stock as a "sell." Among the 19 analysts tracking Dominion Energy, 13 recommend a "hold," two recommend a "strong buy," and four recommend a "buy."
Article continues below advertisement
Peers' target prices 
According to analysts, Southern Company (SO) has a target price of $50.74, which implies a potential gain of 2%. Currently, it's at a market price of $49.78.
American Electric Power (AEP), one of the largest utility holding companies in the country, has a target price of $71.15, which indicates flattish movement from its current price level of $70.93.
Outlook
Dominion Energy is one of the fastest-growing utilities in the country. Its earnings growth is expected to drive its above average dividend growth for the next few years. Its business mix of electric and gas operations along with midstream operations might bode well for its earnings growth going forward.
From a broader perspective, US utilities (XLU) seem well placed for their targeted earnings growth of 4%–6%. They're targeting similar dividend growth for the next few years. It continues to be the highest-yielding sector among broader equities, which makes utilities relatively more appealing from investors' angle.
Cheaper natural gas prices have radically changed the US power generation economics in the last few years. Cheaper prices have impacted coal and nuclear power. To learn more, read How Nuclear Generation Utilities Have Performed Recently.