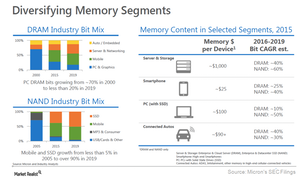 Do the Changes in Micron's Management Suggest New Hope?
By Puja Tayal

Sep. 1 2017, Updated 10:37 a.m. ET
Micron's management
Micron Technology (MU) is looking to leverage the changing memory market to maximize its profits. This requires a fresh perspective, and that's exactly what its new CEO (chief executive officer) is expected to give to the company.
Sanjay Mehrotra is the former CEO of SanDisk, which was acquired by Western Digital (WDC). Mehrotra took the helm of Micron in April 2017, after Mark Durkan retired. After just four months, Mehrotra has brought in three people from SanDisk.
Article continues below advertisement
Mehrotra hired SanDisk's senior vice president of corporate engineering, Jeff VerHeul, as senior vice president of Micron's Non-Volatile Engineering. Mehrotra then hired SanDisk's chief strategy officer and Enterprise Solutions head, Sumit Sadana, as chief business officer. Clearly, Mehrotra plans to align the product strategies of Micron's four business segments—computing and networking, storage, mobile, and embedded—to market trends and customer demands.
Mehrotra also hired SanDisk's vice president of marketing for Enterprise Storage Solutions, Anand Jayapalan, to head Micron's solid-state storage business and expand it in large market segments including the cloud, enterprise, and client computing.
New management brings new hopes
Several analysts believe that the former SanDisk team will likely drive Micron's enterprise SSD (solid-state drive) business and accelerate the development of QuantX products based on 3D XPoint technology. Micron developed 3D XPoint in collaboration with Intel (INTC), and while Intel launched its first product based on this technology under the Optane brand, Micron is still developing products.
Some analysts believe that Micron brought on Sanjay Mehrotra in order get acquired, as he had been instrumental in the acquisition of SanDisk by WDC. However, no acquisition seems in sight in the near future.