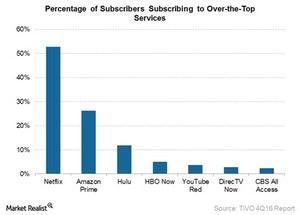 Why Disney Launched Its Streaming Service for ESPN
By Shirley Pelts

Updated
Disney is launching streaming services
The Walt Disney Company (DIS) announced its fiscal 3Q17 earnings on August 8. Disney's fiscal third quarter ended in June. The highlight of Disney's fiscal 3Q17 earnings was the company's announcement regarding the launch of two streaming services. The company said on its fiscal 3Q17 earnings call that one streaming service will be for ESPN and it will stream live sports. The other will stream content from Disney's extensive content library.
Article continues below advertisement
Disney expects to launch the streaming service for ESPN early in 2018 while the other streaming service carrying Disney's content will launch in 2019. Now let's look at the details of Disney's sports streaming service. As a part of this strategy, Disney has also increased its stake in BAMTech from 33% to 75% for an additional $1.6 billion and has acquired control of the company. According to Disney, such a move will give the company access to the technology to provide a high-quality experience to its viewers through ESPN's direct-to-consumer service.
Disney also gave more details regarding this service and said that ESPN's direct-to-consumer service will offer multi-sports packages besides individual sports packages, and its subscribers will be able to access the service through an enhanced version of ESPN's current application.
Rationale behind the ESPN direct-to-consumer service
From the start of this year, Disney had been increasingly concentrating on a digital distribution strategy for ESPN. This shift in focus was indicated with the revamp of ESPN's popular SportsCenter and ESPN's cost-cutting initiatives, which included laying off 100 employees.
The company has also been increasingly distributing ESPN on skinny bundles priced at $40–$50 per month. With ESPN's direct-to-consumer service, Disney expects to use its viewership data to improve advertising revenues for ESPN.
Another reason for Disney's decision to launch a direct-to-consumer service for ESPN has been that video streaming is becoming increasingly popular. According to a Digitalsmiths' 4Q16 video trend report, and as indicated by the chart above, Netflix (NFLX) leads the OTT (over-the-top) market with a ~53% share.