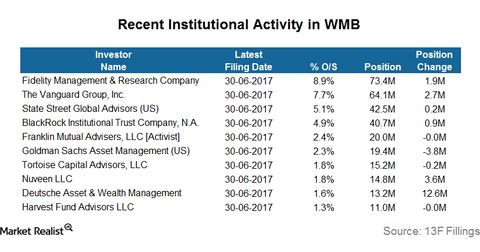 Deutsche Asset Management Adds Position in Williams Companies
By Kurt Gallon

Updated
Recent institutional activity in WMB
The institutional holdings in Williams Companies (WMB) didn't change much quarter-over-quarter in 2Q17. Institutional ownership fell to 86.6% in 2Q17 compared to 86.8% in the previous quarter, while the number of holders fell by four to 920 during the same period. Deutsche Asset Management added a major position in WMB during 2Q17. It increased its position in WMB by 12.6 million shares.
WMB saw total buying of 29.0 million shares from institutional investors, while 44.1 million shares were sold. However, among the top institutional investors in Williams Companies, 17.7 million positions were added. That could indicate a bullish sentiment in WMB. Lone Pine Capital and Corvex Management were the biggest sellers with 16.3 million and 14.1 million shares sold, respectively. These two hedge fund managers unloaded massive positions in WMB following the unsuccessful merger of Energy Transfer Equity (ETE) and Williams Companies.
Article continues below advertisement
Why institutional investors are bullish on WMB
Institutional investors' bullishness towards WMB could be attributed to the following factors:
improvement in balance sheet position driven by recent measures, including asset sales and financial repositioning
reduced commodity price exposure
timely approval and completion of Williams Partners' (WPZ) major pipeline projects
Top five holders
Fidelity Management & Research, The Vanguard Group, State Street Global Advisors, BlackRock Institutional Trust Company, and Franklin Mutual Advisers are among the top five institutional holders in WMB. Fidelity Management & Research continues to be the largest institutional holder in WMB, currently holding 8.9% in the company.
In the next part, we'll look at Williams Companies' recent analyst recommendations.