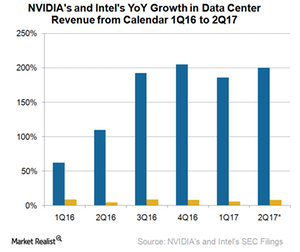 Data Center: NVIDIA's Key Growth Driver in Fiscal 2018
By Puja Tayal

Updated
NVIDIA's Data Center segment
NVIDIA (NVDA) is already a leader in PC gaming technology with its GeForce GPUs (graphics processing units). It is now looking to expand its GeForce user base beyond gaming enthusiasts by attracting mainstream gamers and eSports viewers.
It is adopting a similar strategy in the data center. The company hit the AI (artificial intelligence) inflection point at the start of calendar 2016 as enterprises and data centers adopted GPU accelerators to perform their deep-learning tasks. 
The increasing adoption of AI helped NVIDIA expand its customer base. Its Data Center segment now serves cloud service providers, enterprises, HPC (high-performance computing), GRID graphics virtualization, and the DGX-1 AI supercomputer.
Article continues below advertisement
As GPUs speed up the processing power, the demand for server CPUs (central processing units) has decreased. This trend impacts Intel (INTC), which commands more than a 99% share in the server processor market. Although Intel is building its AI ecosystem, analysts believe that its technology lags behind that NVIDIA's technology.
Data Center earnings
NVIDIA's Data Center revenues grew 186% YoY (year-over-year) and 38% sequentially to $409 million in calendar 1Q17, accounting for 21% of the company's revenues. This growth momentum is expected to continue in calendar 2Q17, and NVIDIA is expected to report around 200% YoY growth in Data Center revenues to $450 million. On the other hand, Intel's Data Center segment's revenues grew only 9% YoY in calendar 2Q17.
Article continues below advertisement
NVIDIA's biggest growth driver is the GRID business, which more than tripled in calendar 2016 due to its increasing adoption in the education, business services, and automotive sectors. The second-biggest growth driver was HPC, which nearly doubled in fiscal 1Q18 as supercomputers adopted GPUs for AI and accelerated computing.
NVIDIA's efforts to boost AI adoption
NVIDIA has been looking to bring AI mainstream by easing the use of its GPUs for almost all types of AI workloads with the help of its CUDA software. The company is enabling several cloud companies like Google (GOOG) and Baidu (BIDU) bring GPU computing in the cloud to enable startups and small companies benefit from GPU computing.
In 2016, NVIDIA launched the world's smallest supercomputer DGX AI supercomputer based on Pascal architecture. This was well-received by enterprises and researchers around the world.
In August 2017, NVIDIA launched the DGX AI supercomputer based on its new Volta architecture. It also gave out 15 free samples of this system to researchers in order to promote AI.
The company is looking to expand the reach of AI beyond the data center to on-the-edge computing with its Metropolis AI platform and DRIVE PX AI platform used for city management and autonomous driving.
Next, we will look at the progress of NVIDIA in the autonomous driving space.